Simon Says Stamp Wednesday Challenge this time is no rules–just anything goes!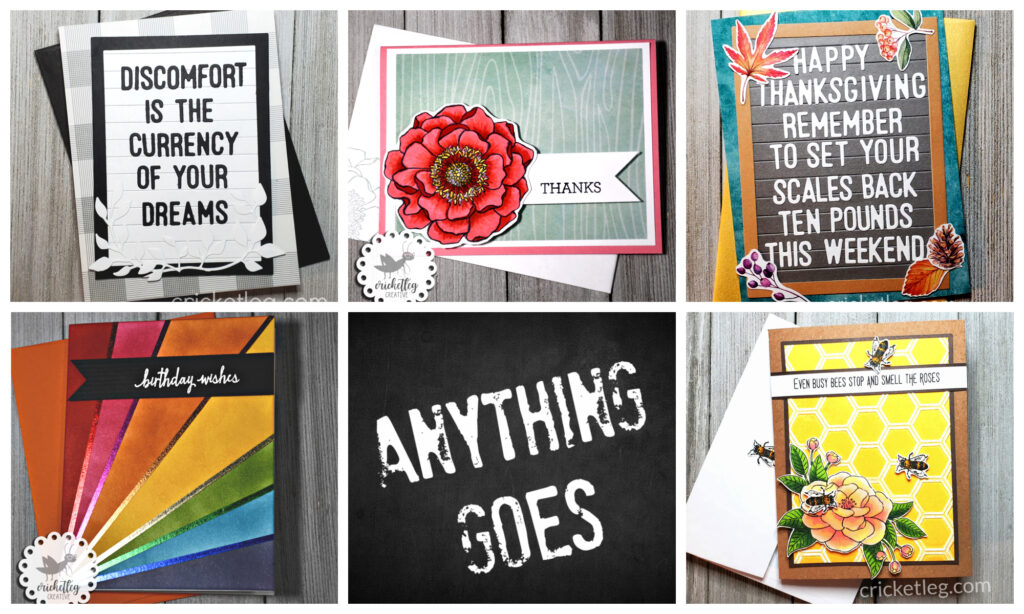 As much as I love freedom, you'd think I'd cheer with an "Anything Goes" challenge theme. But what I've found is that I actually enjoy some light parameters within which to work. Still, I do love me a challenge, parameters or no.
So, without further ado, here are my five entries into this "Anything Goes" challenge.
Camellia Thanks
Well, I don't really know if it's a camellia, but it looks like one to me! I stamped it on cardstock, colored it in with Copic markers, fussy cut it out, and mounted it onto patterned paper.
You can't tell it from the picture but there's also super fine glitter on the center parts of the flower.
Simple card, but the camellia is the star of the show!
Birthday Wishes
I have really come to love ink blending. That's the technique I used to make this rainbow starburst card. Post It notes were used to section off the "rays" and I ink blended between them.
The lines were not as crisp as I'd like so I used different colors of metallic tape to cover them. I love that look!
A simple white-embossed sentiment finishes off the card.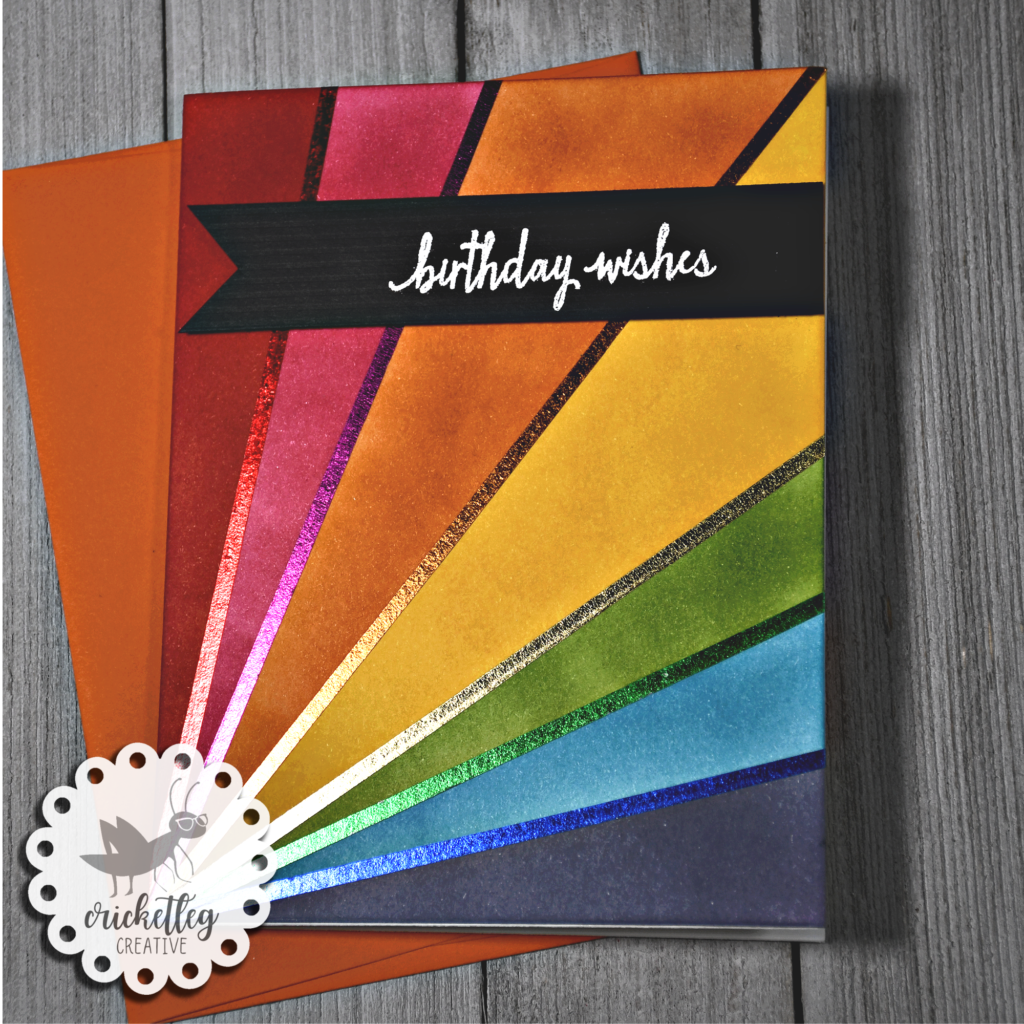 Busy Bees
The star of this card, in my opinion, is the inked and embossed background. It was touch-and-go for a while there as I got the hang of which colors seemed to work best, as well as which embossing folders worked best.
Simply put, you ink up one side of an embossing folder, carefully lay a notecard down on that inked side, close it, and run it through your die cut machine.
Sometimes it comes out looking like a fail, but once the ink dries, the color usually evens out.
Discomfort
This may seem like a strange quote to put on the front of a card, but I sent this specifically to the author of the quote, Brooke Castillo. She's a life coach, trains other life coaches, and is the host of my favorite podcast (The Life Coach School Podcast).
I just wanted to send her a note of thanks for all the good she puts into the world! And I thought that using this letterboard die set from Sugar Pea Designs was a perfect way to highlight her contributions.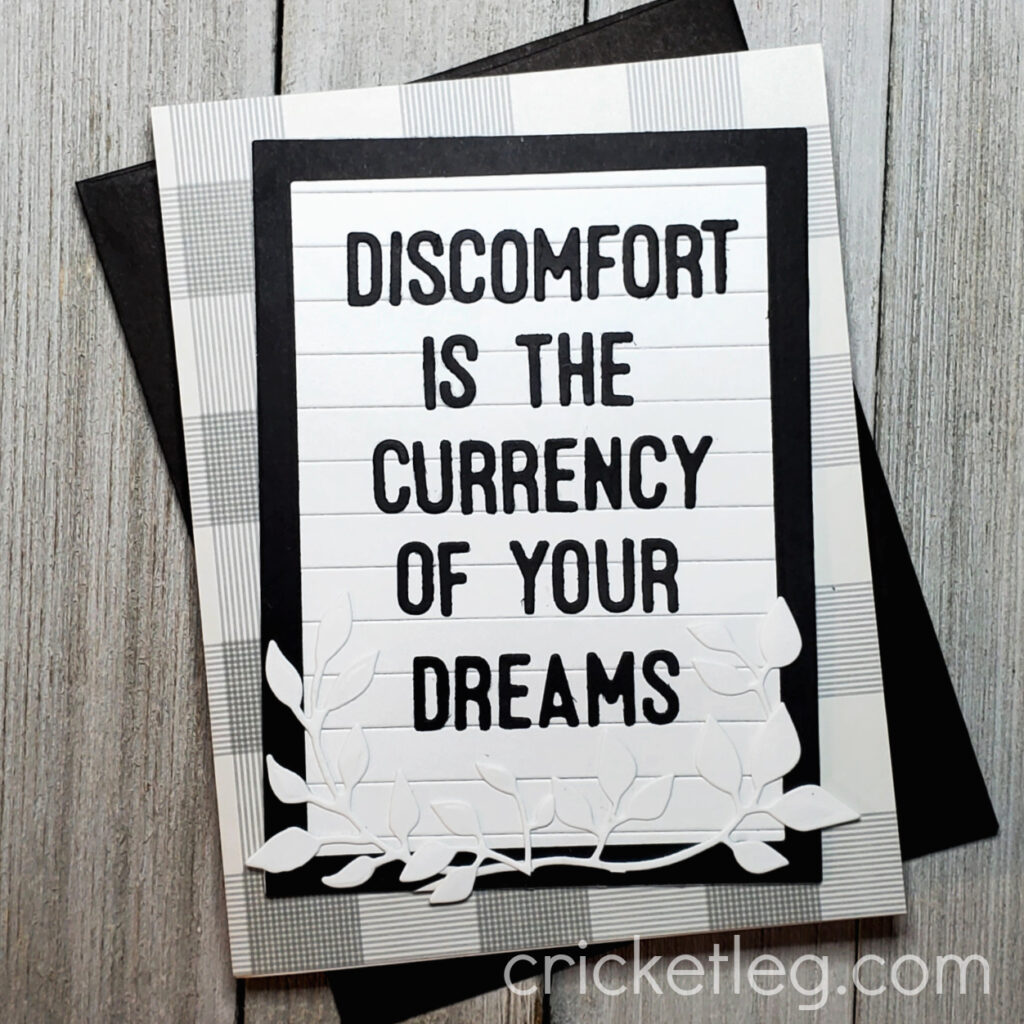 Happy Thanksgiving
Look how versatile that letterboard die set is! I get to use it on another card!
The possibilities are somewhat endless for this set as it can be used for any season, any (short) saying, any mood. I love it!
And I think we all know that the vibe of this particular card is especially true. I don't know about y'all but those Thanksgiving leftovers…..phew. They 'bout did me in.
Embellishments are from a recent Simon Says Stamp card kit of the month (items from that kit also used on this card).