The most recent Monday challenge from Simon Says Stamp has the Food and/or Drink theme.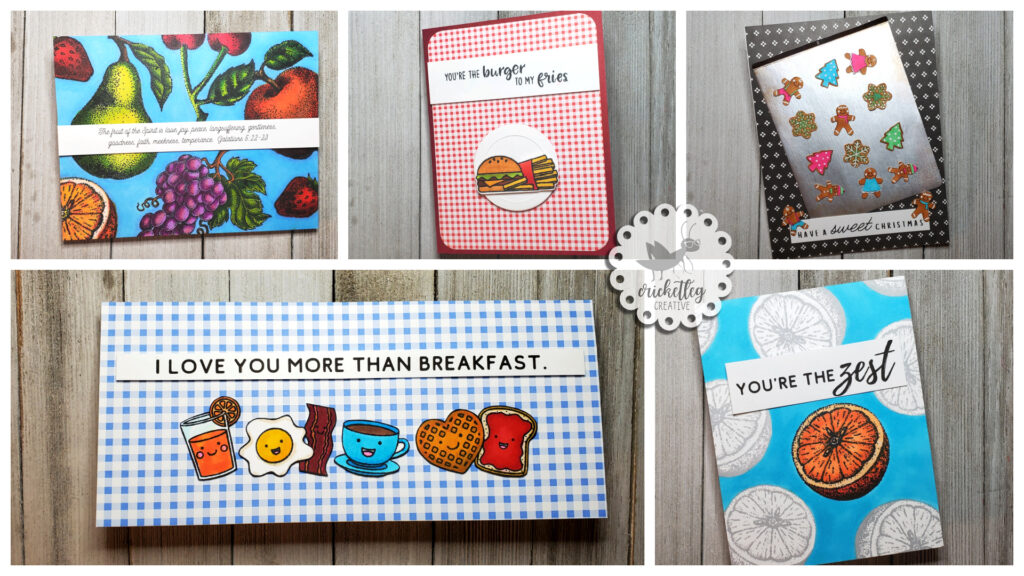 Well, hi!
Hey, it's a non-holiday challenge this time. Whaaaaat??
And, it's one that I had to stretch a little for. Don't have a ton of food related stamps. Luckily, I pulled it off! Five entries for the Food and/or Drink Challenge await you below!
Burger and Fries
I like this simple card. I think sometimes I overcomplicate a card, or maybe it's just that I like to do more complicated techniques. But a clean and simple card (CAS) is pretty satisfying when it's done well.
And I think this one is.
I used stamps from this Sunny Studio set (the same one I used to make this card). To make the plate, I used circle dies. Some patterned paper and a stamped sentiment, and we done, y'all!
You're The Zest
While perusing Pinterest the other day, I saw a similar card and thought I would recreate it using what I happen to have on hand.
The orange stamp is from a Stampin' Up! set from way back. You'll see most of the set in a card further down in this post. I stamped it in a warm gray color but stamped it once in black and colored that in with Copic markers. I used a blue marker to color in the negative space. There's no gradation in that blue background. It's just the weird lighting!
I made a sentiment on Canva and printed it out onto cardstock.
Breakfast
This card features another Sunny Studio stamp set that I used to make this card as well. It comes with lots of fun sentiments that can be mixed and matched, but because of the size of this slimline card, I made my own sentiment on Canva and printed it out onto cardstock.
The foods are stamped in black, colored in with Copics, and fussy cut out. I mounted them onto patterned paper and mounted the sentiment above.
And whoever I give this to better believe that sentiment….if I say this to you, I freakin' love you cuz I love me some breakfast foods!
Fruits
Here's that old Stampin' Up! fruit stamp set I mentioned above. There are a couple more stamps in that set than what you see in this card, but these are the big ones!
Just stamped in black, colored with Copics, and filled in the negative space with Copics as well. I did some very subtle shading around the outside edge of each fruit. But it's still blue on blue. Loving this…I mean, it almost looks like it's just patterned paper and it came this way!
The scripture is printed out using Canva.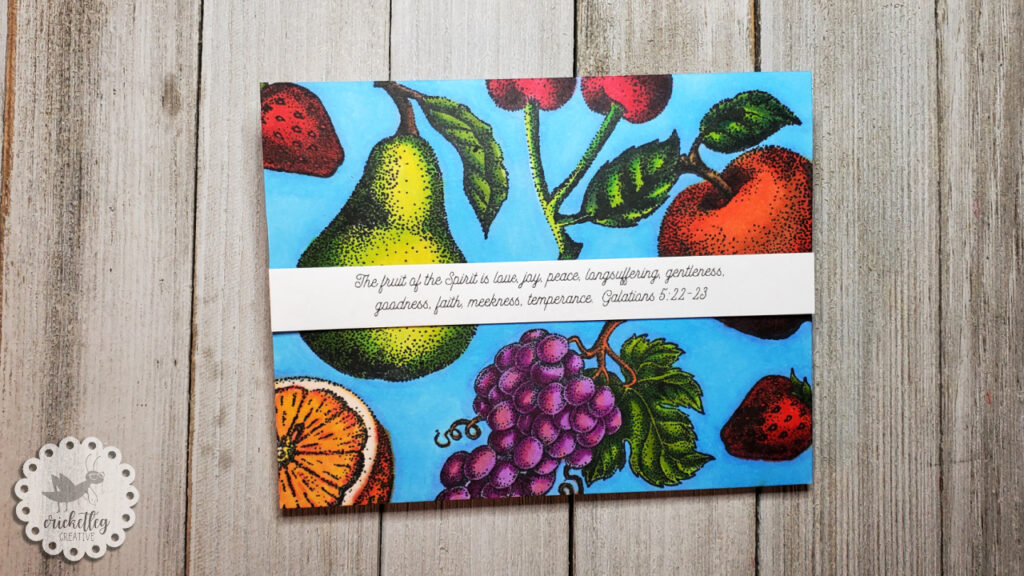 Cookie Sheet
I think this one is my favorite because I had fun making the cookie sheet. I tried to make it look like my cookie sheets….kinda hammered and discolored. But I don't know that the look translates well on camera.
I cut out some metallic paper and made a score line near the top edge to simulate the slanted edge of a cookie sheet. Using a mini hole punch, I made the hole (I've never used that hole on a cookie sheet IRL!). Using brown, rust, and golden stamp pads and sponge daubers I tried to layer some color to give the look of age to the paper.
Now, I don't have any suitable sized gingerbread men or cookie stamps so I bought some digital stamps on Etsy. I bought a couple of sets….this one and this one. Digital stamps are kind of fun because they can be resized or tweaked before you print them out. I colored them and fussy cut them out and then glued them to the cookie sheet.
Leftover cookies got glued to the, yes, Canva-made sentiment. All items then were adhered to patterned paper on the card front.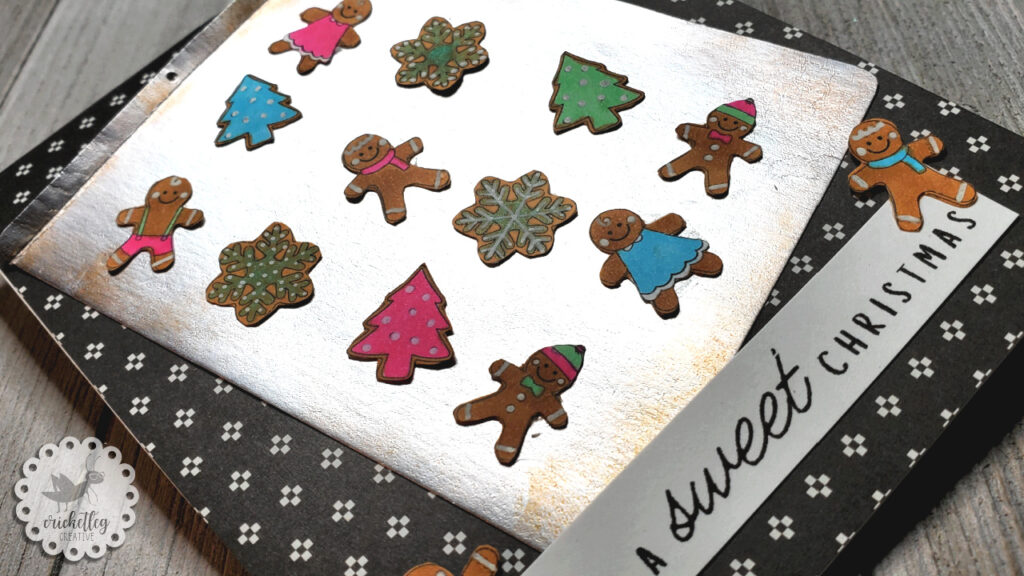 You can kind of see the "aging" coloring on the edges in this pic. My cookie sheets are way more, um, aged than this one.
So. The Food and/or Drink Challenge entries are done! What is your favorite one? And if you can't answer that….what's your favorite food and/or drink? 😉
Y'all take care!