Simon Says Stamp has offered the Thanks/Thanksgiving theme for the most recent Wednesday Challenge.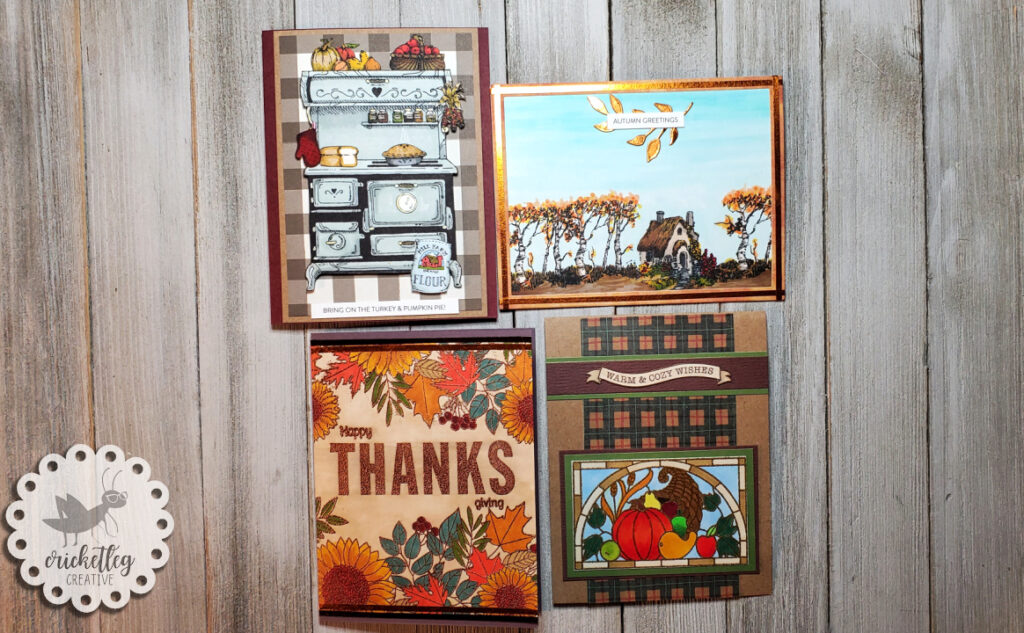 Because I've done a bunch of "thanks" cards lately, I chose to focus on Thanksgiving for the theme. I typically don't make Thanksgiving specific cards.
I'm still working on building up my supply of stamps, dies, and supplies from a loooooong cardmaking break. And one of the challenges for me with these, um, challenges is that I have to be extra creative to figure out how to use what I already have. Or use what little I have recently accumulated.
So this week's entries are a combo of old and new. Old and new papers, stamps, and supplies.
Autumn Thanks Stacked Card
So this one was posted earlier this week (which is why it's not in the group pic above) along with more info and a YouTube video. I'll post the picture here, but to learn more about the card, check out the blog post.
I used paper and stamps from Simon Says Stamp.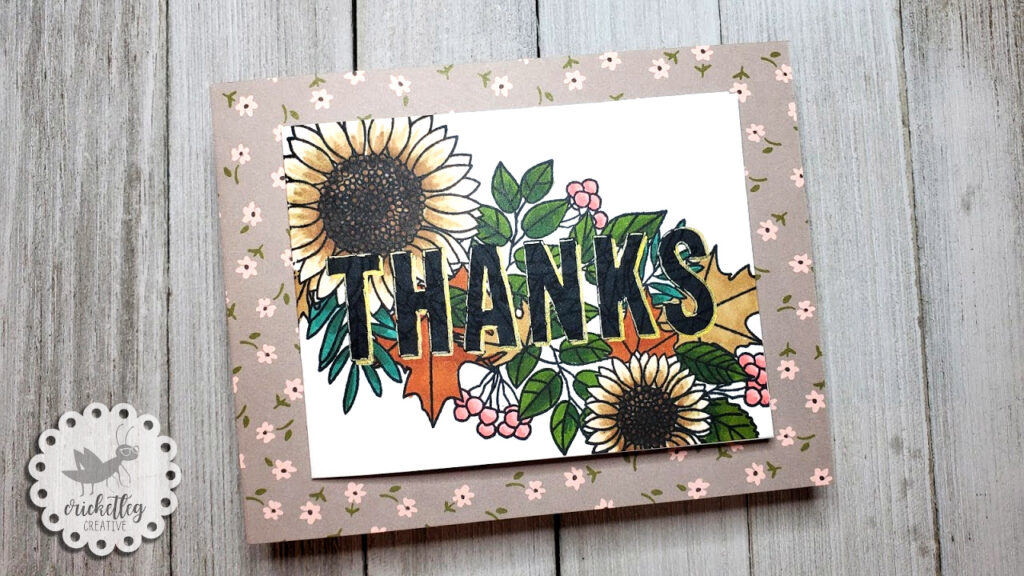 Old Fashioned Stove
If you've read my About Me page you'll know that I used to be a Stampin' Up! demonstrator. Hence, the majority of my stamps are from that company. Not only that, but the majority are from back in the 90s!!
Back then, a cozy country feel was all the rage. I still love looking at this old fashioned stove stamp on my stamp shelves but find that I rarely use it.
But with Thanksgiving and all it's turkey, dressing, pie, etc., I figured a cooking themed card would fit just right. It's paired with lots of stamped and cut out accessories and food. A Simon Says Stamp background paper and sentiment complete the card.
Stained Glass Cornucopia
One thing that always bothered me about the set of stained glass stamps from Stampin' Up! was that it wasn't card sized. But I've solved that by pairing the embossed and colored image with some patterned paper and a sentiment.
I've shown a close up here so you can see that the gold embossing powder has glitter in it. That powder is still going strong from back in the 90s when I first bought it. It's called Motherlode. Not sure if there's an equivalent powder out there now.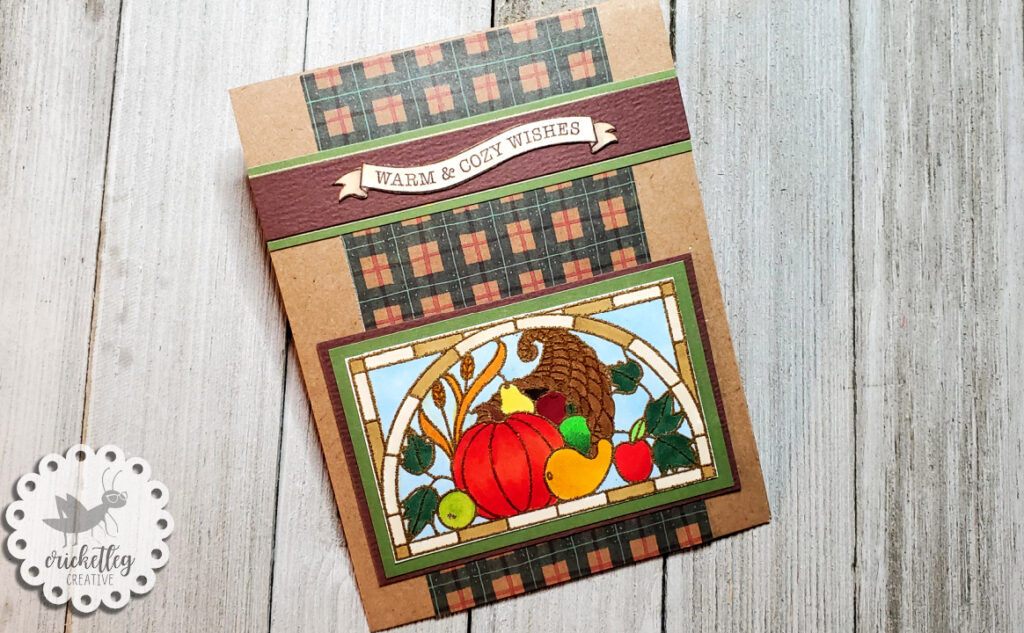 Here's a close up of that glittery embossed image.
Autumn Scene
Back in my demonstrator days, I would often act as "hostess" for various groups of orders and would consequently earn hostess stamp sets. Sometimes this was great. Other times I was like, meh.
The two stamps used below are from a hostess set that I have NEVER USED. Nope, not even once. I just didn't think they were very practical.
So–and this is one of the things I love about participating in challenges–I dared myself to use these stamps and make it pretty. Surely I could challenge my creativity here and look beyond the outline image on the stamp.
I have to say, I'm pretty happy with the result. I'd like to do this scene again but for a spring look. Hey, maybe they'll do a spring challenge in a few months.
The card is framed with some new paper from the monthly Simon Says Stamp kit. I also trimmed it with some bronze metallic tape and a leaf die cut out of bronze metallic cardstock.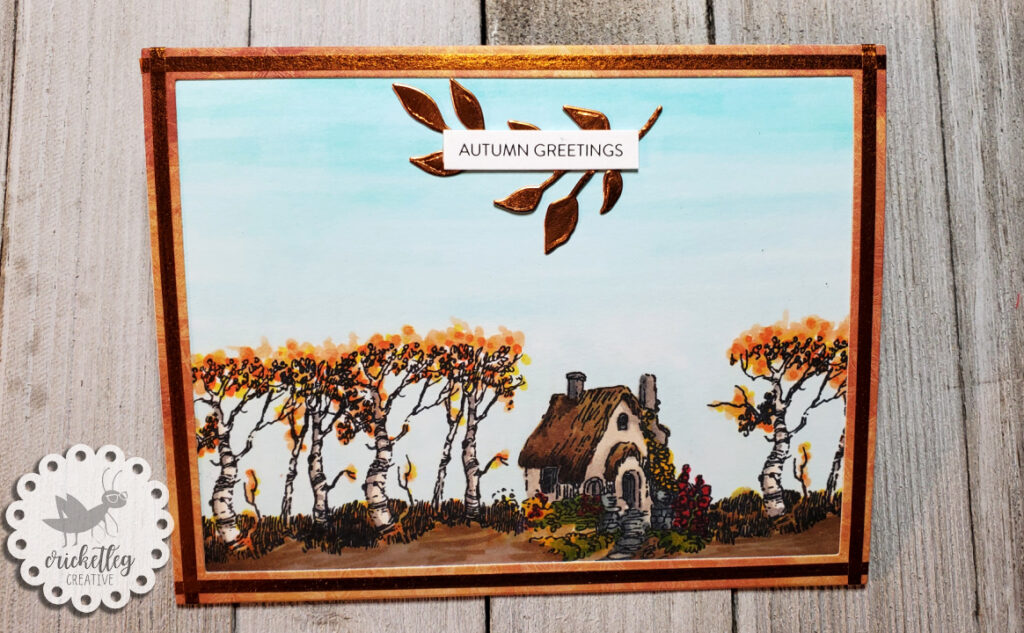 Autumn Floral
We've come full circle here as I'm using that sunflower and leaves floral stamp from the first card I've featured in this post. This is another embossing project. And I decided to do everything embossed in a copper powder.
I used alcohol markers to color in the embossed images. I've used a metallic brown and a metallic copper tape at the top and bottom to give some accent. I really love using this stamp but doing completely different color palettes each time. It's a fun challenge in and of itself.
If I could start this card over, I think I would double or even triple emboss the big "thanks" stamp to give it a more even finish. But I think it still looks great.
So there you go! These cards will be sent off soon to some ladies from church to wish them and their families a Happy Thanksgiving!
I'll see you in the next challenge!
Y'all take care!