This interactive "Have a Sweet Day" Slider Card is an easy way to add a fun element to an already cute card.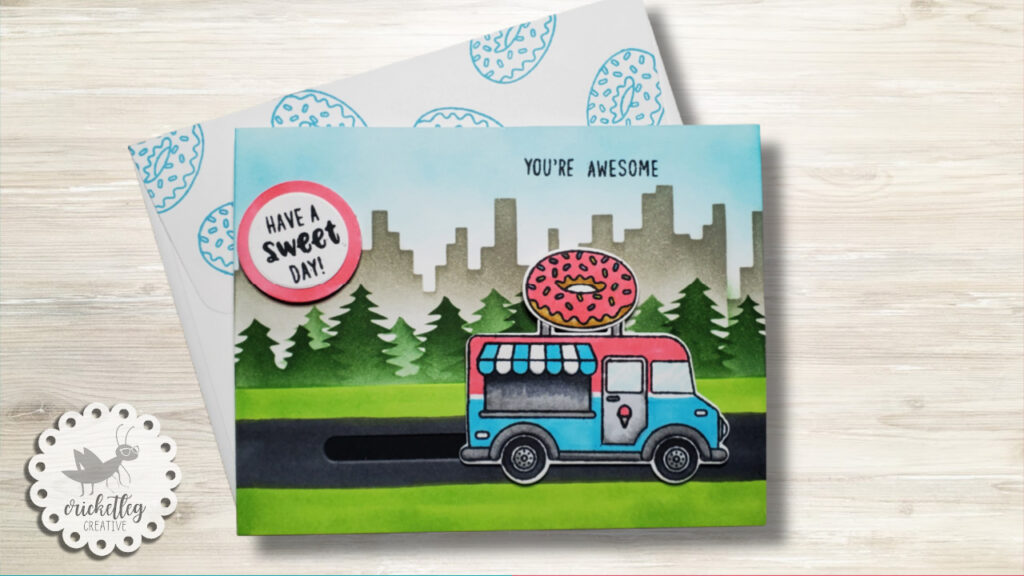 Well, hi!
Welcome to my second interactive card video posted to the blog! Interestingly enough, my first interactive card video uses stamps from the same company! You can view that card video here.
I finally got my hands on the Lawn Fawn slider dies! I definitely will be using the curvy one in the future. But for now, I just used the straight die which works perfectly for this cute donut truck.
Lawn Fawn has many interactive dies from simple to complex in nature. These are the simplest and can be used with a variety of images. I chose to use an adorable food truck.
The Cruisin' Cuisine stamp set (and coordinating die set) has been burning a hole in my stamp supplies just waiting to be used for a cute card! Remembering that I have a good friend who is a donut fanatic, I thought a donut truck card would be fitting.
I first found this stamp set through Sandy Allnock, who is an artist and paper crafter on YouTube. Amazing videos! Go check her out! Her truck is an ice cream truck and she hand draws her background with Copic markers. I opted for an easier route and used stencils, but I love how that turned out!
Watch the video to see the whole card come together, as well as find out how I covered up a mistake! I tend to make those a lot. 😉
Sunny Studios has a ton of cute stamps. You can see the blog post of the other card I made using their stamps here.
Thanks for stopping by! Leave a comment and let me know what your favorite type of food truck is.
Y'all take care!