Simon Says Stamp Monday Challenge this week is Christmas Tags!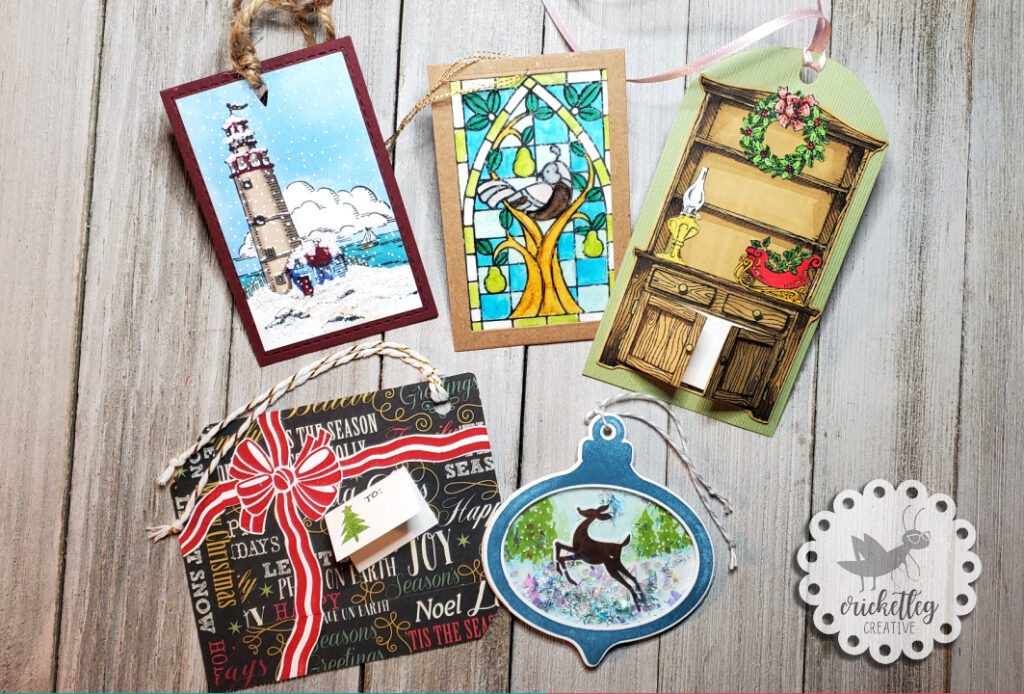 Well, hi!
Welcome to another post with entries to the Simon Says Stamp Monday Challenge. This week's challenge involves making Christmas tags. It's coming, you know.
The ideas for these came together pretty quickly. They were fun to make, but one card gave me a struggle. Can you guess which one?
The Gift Box Tag
I thought it might be fun to make a tag for a gift that looked like, well, a gift with a tag!
I cut out a rectangle in the size I wanted and snipped off two opposite corners at an angle. I applied patterned paper to what would be the "sides" of the box (left side and bottom). Then I added paper to the "top" of the gift box.
I stamped the ribbon twice on cardstock using an old Posh Impressions stamp I have. One of the images serves as the main part of the ribbon and the other image I cut up to finish off the ribbon going around the gift box.
I applied a little tag with a to/from inside, and it was done. A fun, quick, cute little tag I think.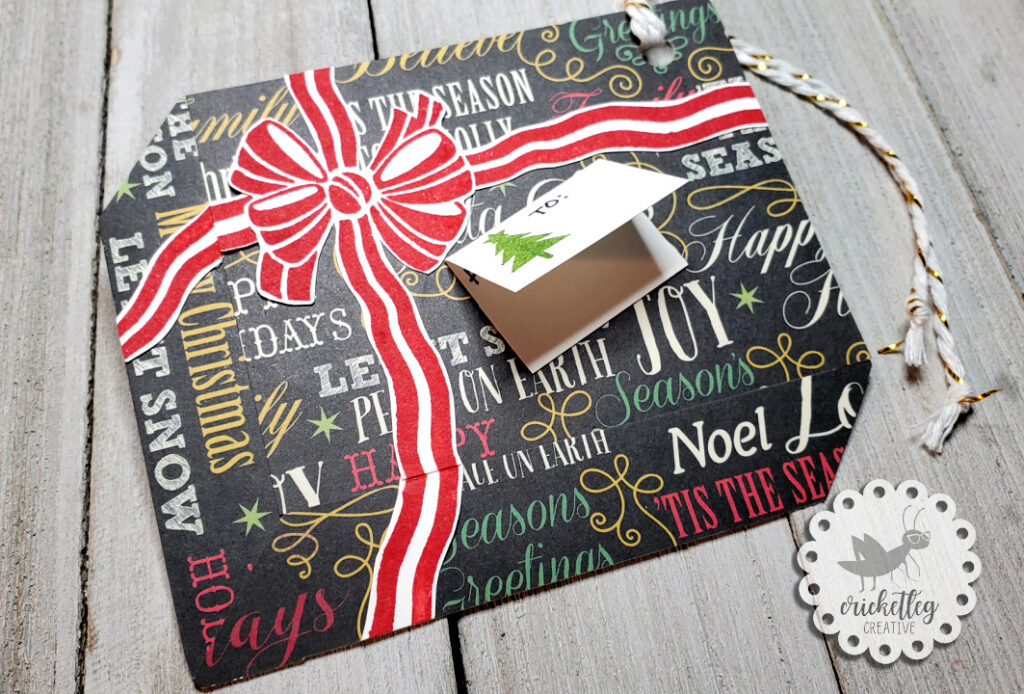 The Stained Glass Tag
I've been having fun stamping on vellum and coloring in with alcohol markers to see what happens. After stamping this stained glass stamp (Stampin' Up!) with Memento Tuxedo Black ink onto a patterned vellum, I allowed it to dry but eventually used a heat tool to finish the drying.
I colored it in with my Ohuhu markers. What's interesting to me is that when you apply a second layer of marker the color kind of does this weird thing that ends up looking more like stained glass. Kind of hard to tell in the picture, but it leaves an uneven blend which I think mimics a rustic stained glass pretty well. In the picture below it's most noticeable on the tree trunk.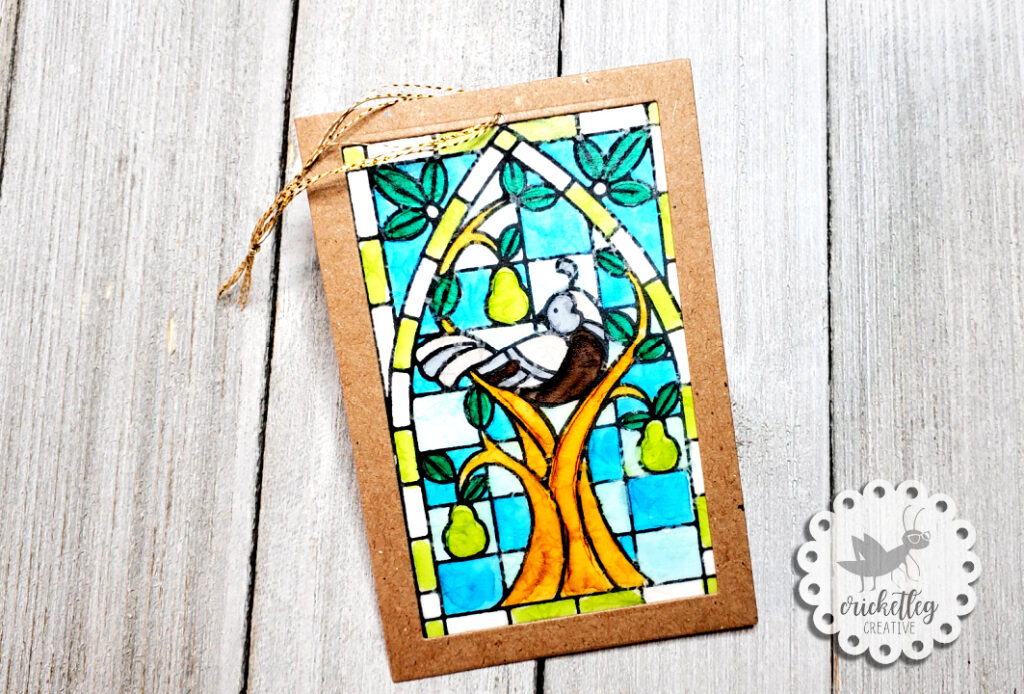 The Lighthouse Tag
I thought it might be fun to do something less traditional. Well, at least not your typical Christmas snow scene. So I pulled out this lighthouse stamp from Stampin' Up!
Things were going great at first. (By now, you have guessed that this is the problem child of the group.) I stamped it with Memento and colored in with my alcohol markers. No problem. Everything was looking great.
Then I used my white gel pen to add snow.
And that went pretty well. For everything that was NOT burgundy.
I tried doing multiple coats. I tried adding glitter. I tried adding matte snow pieces. I tried acrylic paints. Nothing would completely cover up that hot pink that resulted from trying to top burgundy with white!!
But I just kept adding layers until I could get it MOSTLY under control. So my next question is….HOW ON EARTH DO YOU ADD SNOW TO ANYTHING RED? I've never had this problem before!
You may not be able to tell from the picture below (I photographed it immediately after topping with another layer of acrylic paint!). But it's so small, maybe nobody will notice!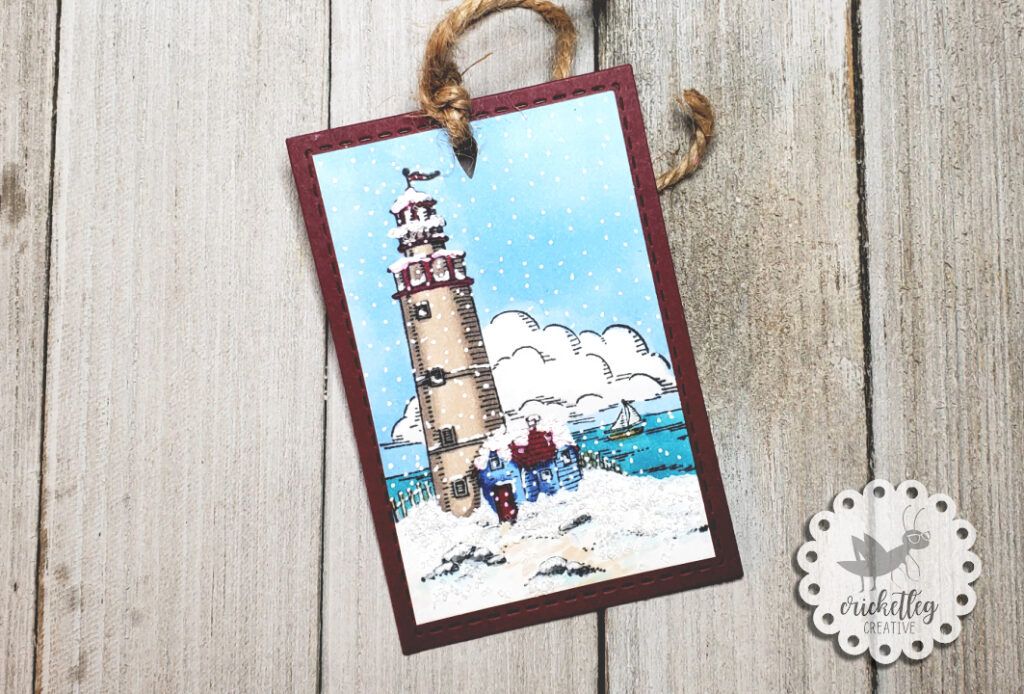 The Ornament Tag
I used stamps and dies from the Hero Arts monthly kit from this October to make this shaker tag/ornament. Tags like this are fun because the tag becomes a gift too!
It was the quickest shaker I've ever put together! Having the dies from the kit really helped the layering to go fast. You can see another shaker card I recently made here.
You could add an additional small tag to the string (so as not to write on the ornament) or just write the to/from on the back.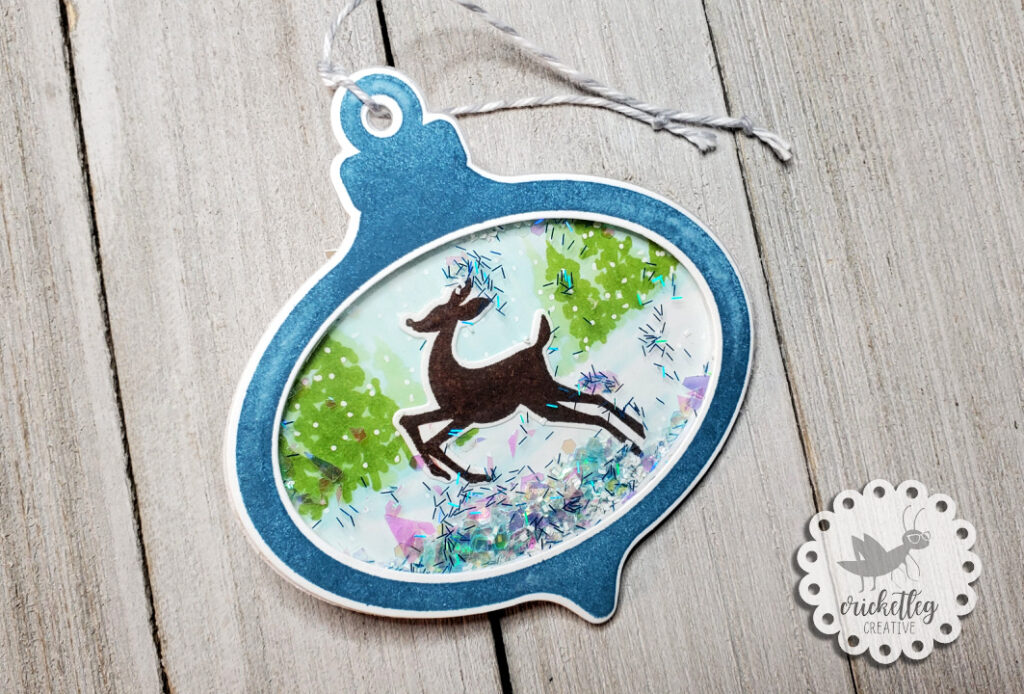 The Hutch Tag
I think this one is my favorite. I love the colors and the homey feel. This hutch and accessories stamps are all from Stampin' Up! and it's been a good long while since I've used this style. These were purchased during the "country" decor phase of rubber stamps back in the 90s. But I can't part with them. Good memories.
Giving these stamps new life in a tag was a good way to dust them off. I stamped everything separate….no masking…and fussy cut them out after coloring them in with alcohol markers.
Though it is hard to tell in the photo, there are gold accents on every piece. I added the accents after gluing the pieces to the hutch. I backed the hutch door area with some white cardstock after cutting along the door lines. Then I backed the whole thing with a pretty green cardstock.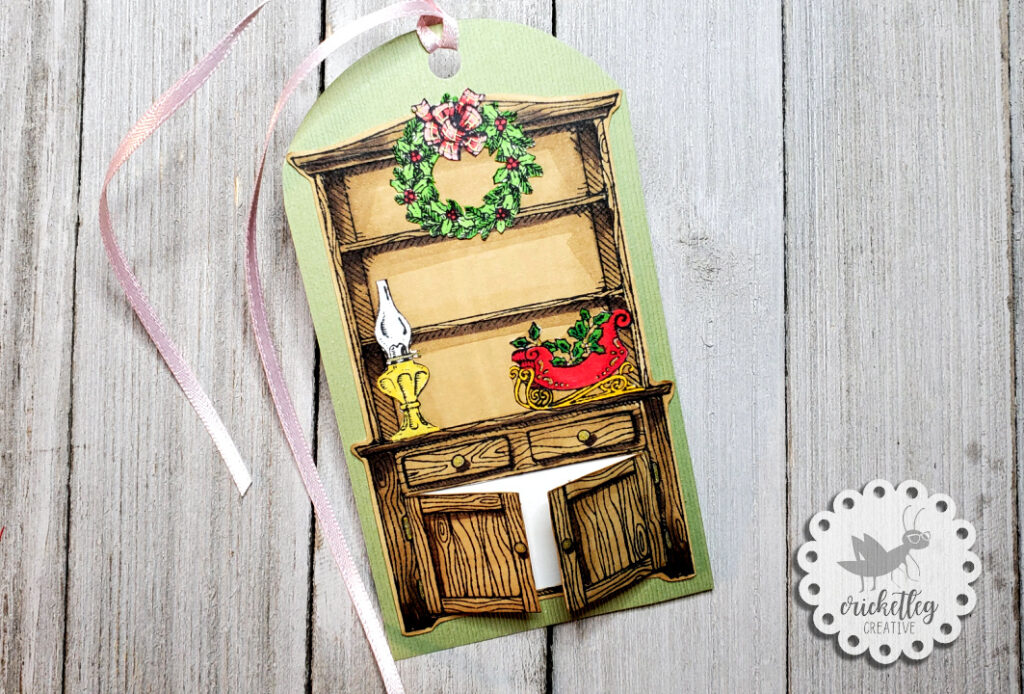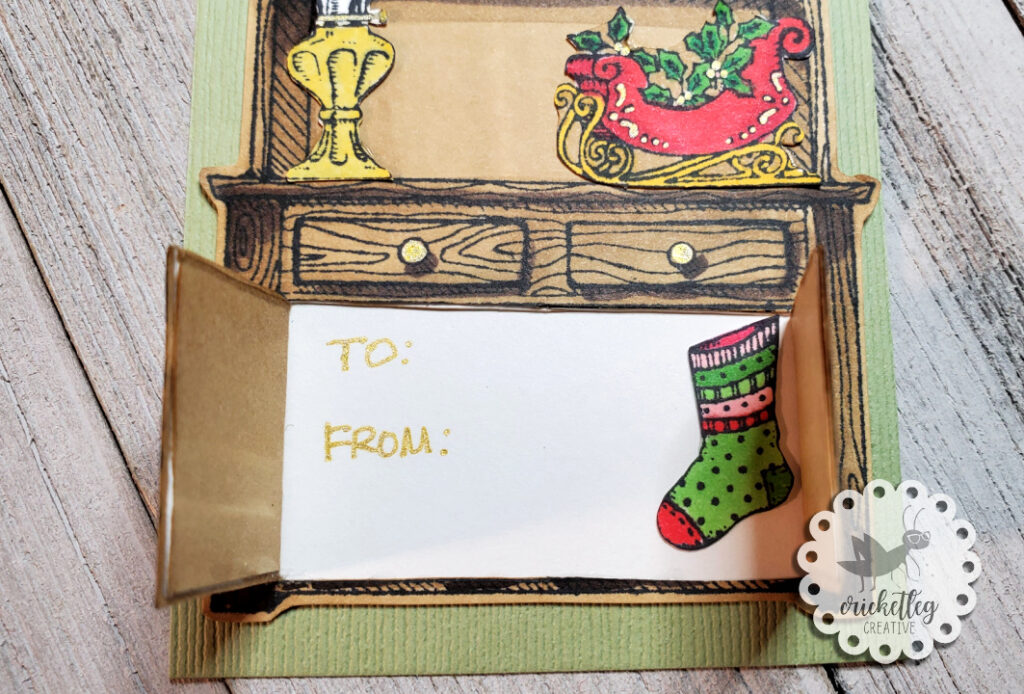 You can see the surprise stocking and the to/from inside the cabinet. Kind of a fun tag to make!
Okay. These Christmas tags are done and done! Hope you enjoyed taking a peak at these tags. And I sure hope you have a solution to my burgundy/hot pink snow problem! If so, please…..advise!
Y'all take care!