The Simon Says Stamp Monday challenge that almost didn't happen. I didn't think I could make "Movie Inspiration" work….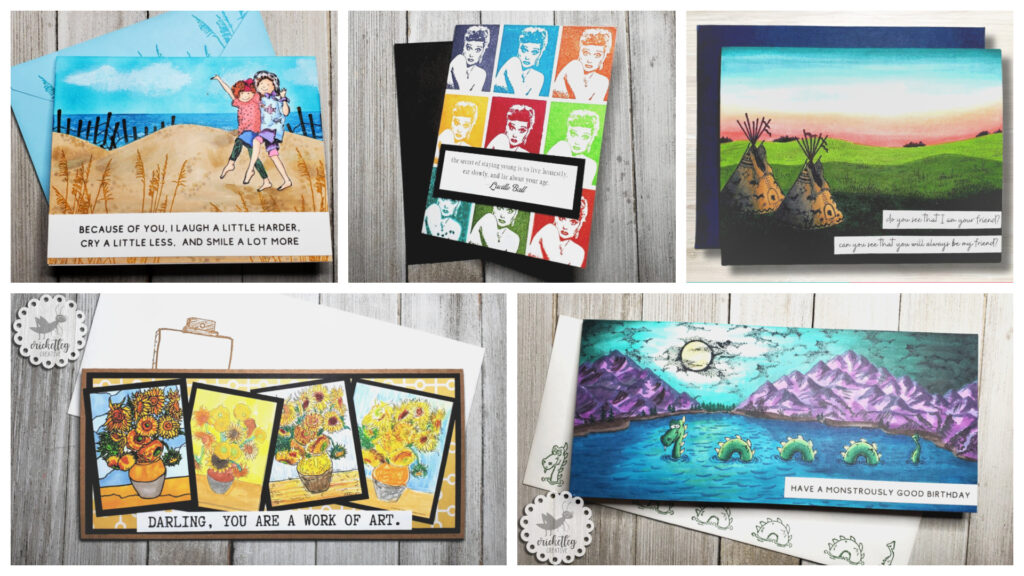 Well, hi!
Each Monday and Wednesday I eagerly check the Simon Says Stamp blogs to see what our newest challenge will be, and then hunker down to plan. In fact, planning/executing/shooting/blogging for these challenges are automatically built into my planner each week.
This week, however, the "Movie Inspiration" challenge them didn't, well, inspire me.
I mean, sure, it sounded fun. But I immediately assumed that I wouldn't have any suitable stamps to create for this challenge. Because I use these challenges as fodder for blog posts, I was naturally disappointed. "Guess I won't have a blog post for this one," I lamented.
Then one night, as I was finishing up all my tasks from my planner, I noticed I just had one more: plan SSSMC projects for this week.
I was so tired and wanted to just stop. But I've been trying hard lately to really honor commitments to myself! So I figured, hey, I can just look around my stamps and see if anything happens.
Wow!
So many ideas came to me! I quickly wrote them down and went to bed. As I lay there trying unsuccessfully to fall asleep, each card planned itself in detail in my mind and I found myself feeling impatient for morning to come so I could make them!
What I've realized is that, while I do enjoy challenges that are more in my wheelhouse, the challenges that are really satisfying are the ones that really challenge my creativity! Coming up with something original and then bringing it to pass? So fulfilling!
So here they are. My Movie Inspiration Challenge entries….I love them all, but I'll list them in order from least to most favorite.
Movie: Beaches
It's been a long time since I've seen the movie, Beaches. But I remember vividly the strong friendship between the main characters. I loved the parts that showed them in their youth.
And this stamp from Delafield Stamp Company (no longer in business) reminded me so much of those two young girls at the beach. I've had this stamp for almost 30 years. Wait, what? Sigh. Yes, it's been that long.
I stamped them first, masked them, and used ink blending tools to create the sand dunes, sea, and sky. A Printworks sand fence stamp and Happy Stamper sea oats stamp complete the scene. (I think both of those companies are also not in business anymore.)
I colored the girls with my Ohuhu markers, which I also used to add some shading to the sand. A white gel pen was used to make the waves.
The quote is just a quote on friendship that I thought fit the mood. This was printed out from my computer using Canva.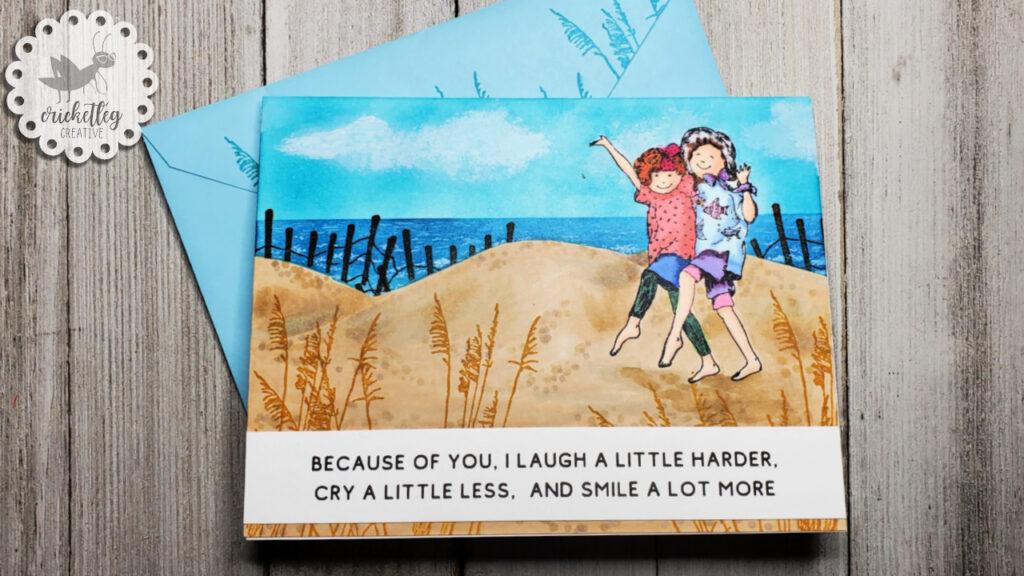 Movie: The Water Horse
I admit for this one that I've only seen that movie once. But I've had this InkaDinkaDoo stamp trio of the Loch Ness Monster for…..okay, can I just say a long time and not say the years? It's a little depressing. 😉
Anyway, my point is that I don't know that I have ever used these stamps and I really wanted to. The three stamps are head, hump, and tail. I stamped the hump multiple times to make her longer.
So I figured I'd make a night scene with my monster gliding along peacefully. I used some moon/cloud stamps from an old Stampin' Up! Halloween set (that I also used in one of the entries here). Everything else is Ohuhu markers.
Unfortunately, you can't see the glitter on all Nessie's spikes, but it's there!
The sentiment was printed off from my computer using Canva.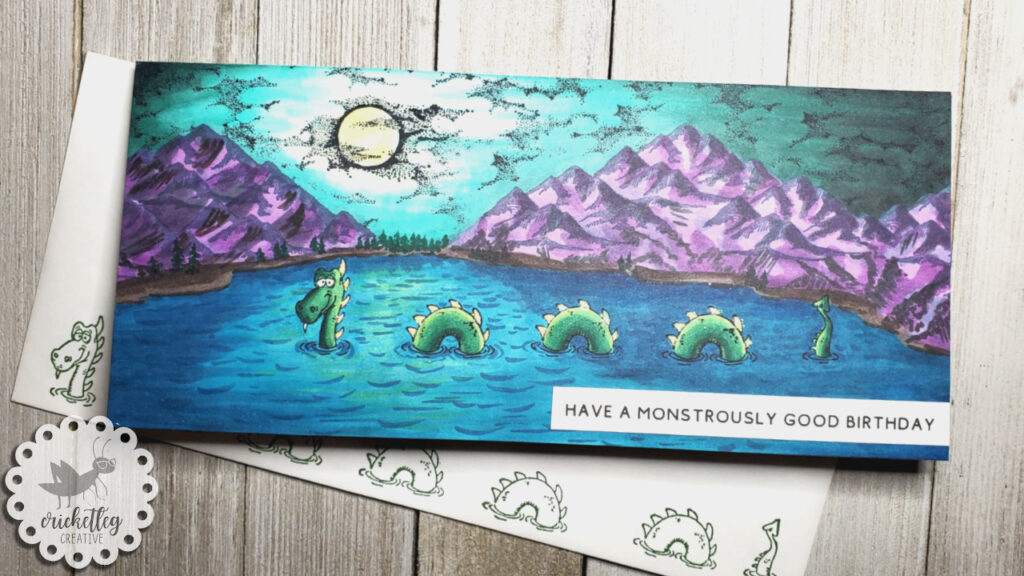 Movie: Mona Lisa Smile
Interestingly, the stamp that inspired this movie choice only got a cameo role in my next card. From Posh Impressions (also out of business….sheesh!…I'm showing my age here) the blank easel stamp sparked an idea in my head.
"Artwork…what movie was it where they all painted a picture based on the same famous work….Mona Lisa Smile!"
Yes, so I found some children's coloring pages online of one of Vincent Van Gogh's Sunflowers paintings. I shrunk them down and printed them off onto cardstock, much like you would for a digital stamp.
I chose four images that were each a unique interpretation of the original. Then I chose four media to use, one on each: markers, watercolor, colored pencil, chalks.
Though the sentiment is not a movie quote, I think it fits nicely. Printed from my computer using Canva.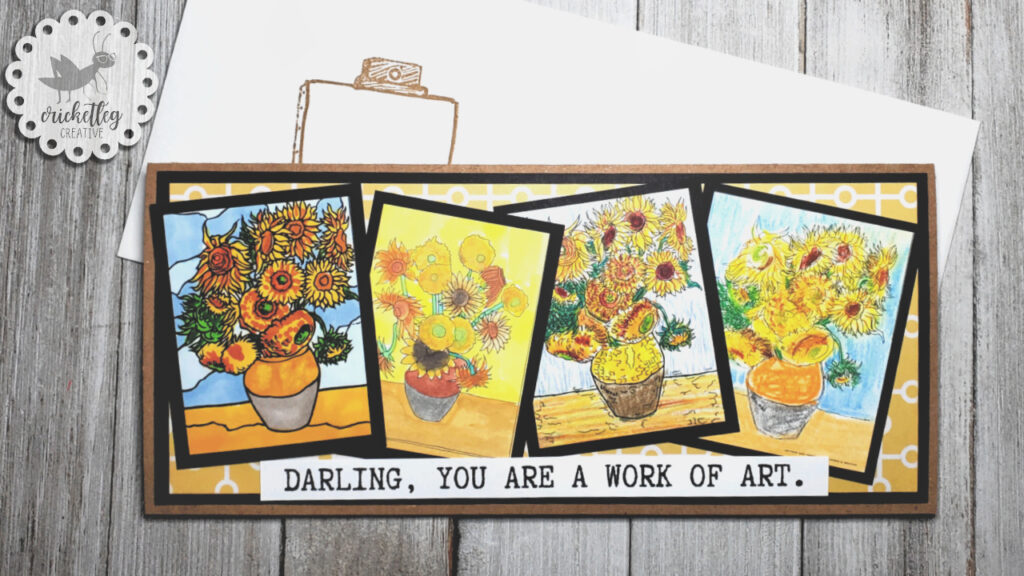 Movie (star): Lucille Ball
No, I did not pick and actual movie for this one. But I have a couple of Lucy stamps and I never use them! (My other one is from "The Chocolate Factory" episode of I Love Lucy….love that show!)
But hey, Lucille Ball was a MOVIE star, so that counts right?
(correct answer = yes)
I wanted to use one stamp, lots of bright color, and a quote from the lady herself!
I think it turned out fun. AND it's a quick card to make.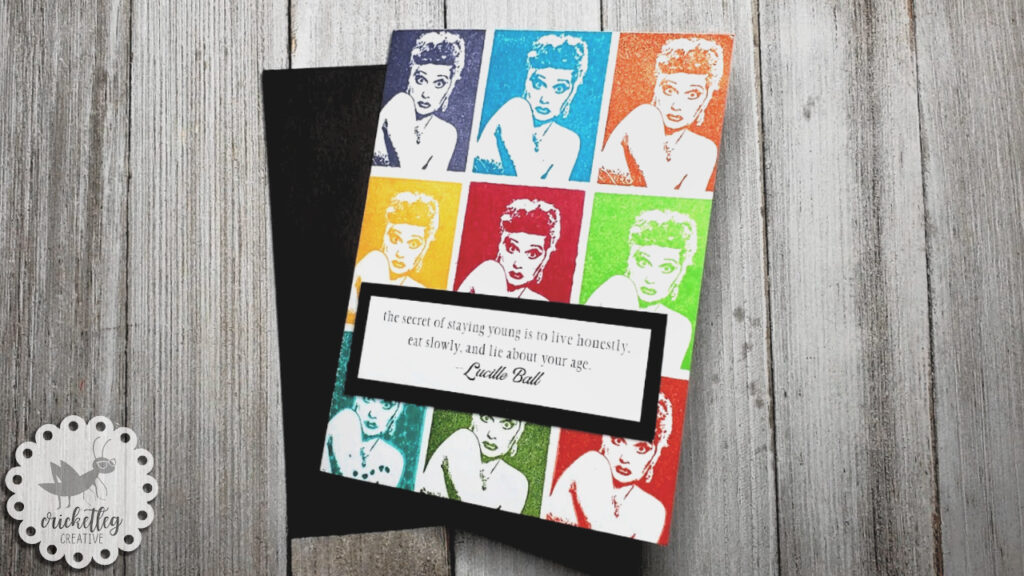 Movie: Dances With Wolves
Yes, my favorite entry, finally!!
It wasn't my favorite idea. I had a teepee stamp from PSX (guess what? out of business) and really wanted a way to use it.
Side Note: why do I have so many stamps I've never used that are kind of random? Whenever we'd go to visit my husband's family in California I would always head to the rubber stamp stores in the area. It was option overwhelm and I would just pick stamps I thought looked cool. I got home, though, and could never figure out how to make them work!
I do love the movie, Dances With Wolves, though. My husband and I saw it as newlyweds. Great times!
I stamped the teepee, masked it, and stamped again. The rest of the card is all marker, except for some grass texture stamps.
My favorite part of the card is the sky. I googled different sunset pictures to find the one I wanted. And then I did my best to pick the right colors. The blend is so much prettier in person.
As soon as I picked this movie for one of my entries, I knew exactly what the sentiment would be. That line, spoken by the character Wind in His Hair, always gives me chills and makes my eyes get all prickly with tears. Printed off from my computer using Canva!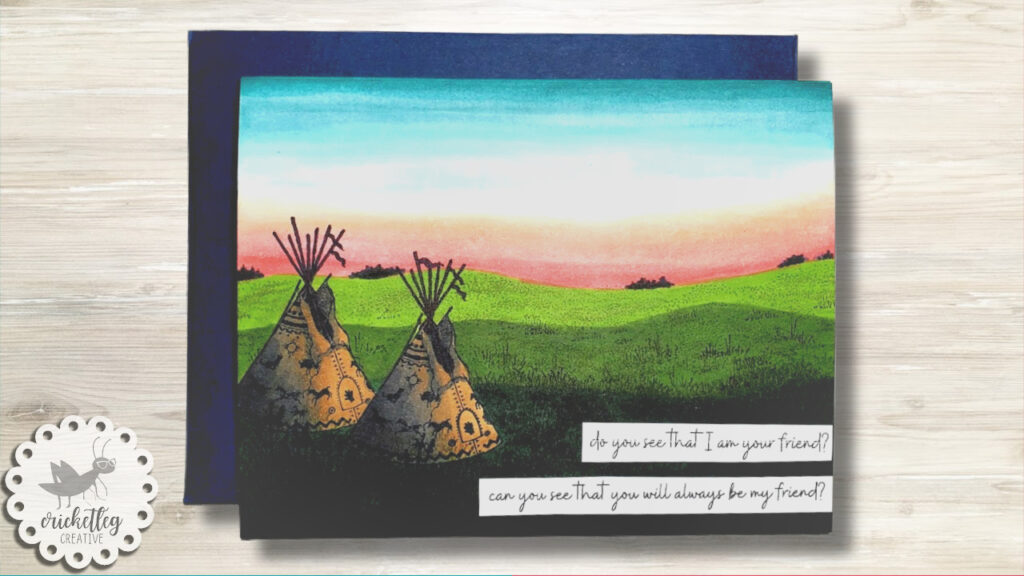 Okay, folks. That's another Simon Says Stamp Monday Challenge in the books! So curious to me that it went from being my least favorite theme to my absolute favorite so far. It really sparked my creativity!
See you next time. Y'all take care!