Using AirTable can help you keep track and inventory all your stamps, dies, stencils, and more! And I have a BONUS idea at the end.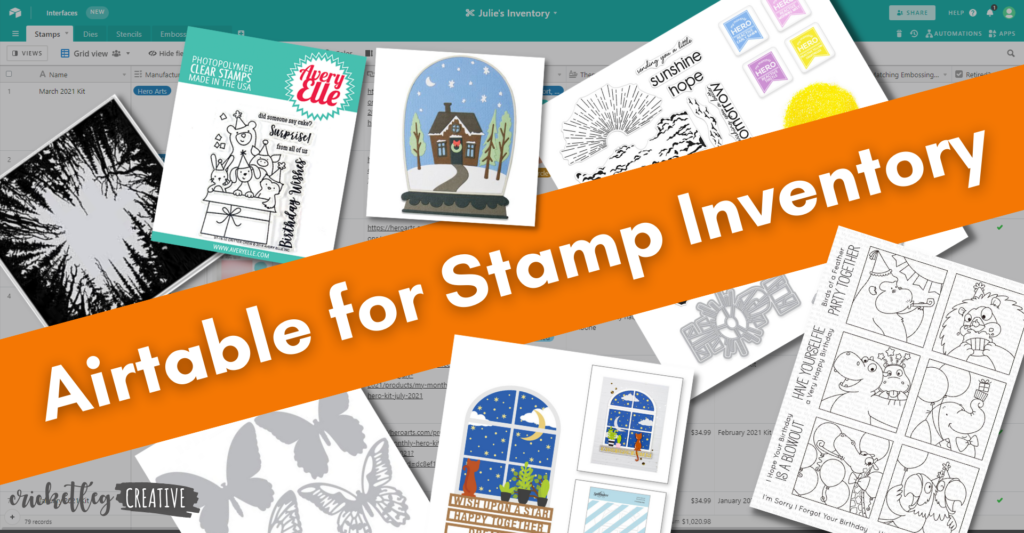 Hey there! It's been a hot minute since I've blogged.
Where've I been? I took some time off (from blogging, not paper crafting) to rest, think, improve my skills, etc. And now I'm feeling so much better. And I'm ready to get back into the swing of things over here.
While today's post is not a card or anything directly "artsy," it does address a crucial component of being organized with paper crafting.
INVENTORY ORGANIZATION
Yes bins, folders, drawers, caddies, and the like are all important for physical organization. But I'm talking about the mental organization involved in know your supply inventory!
Like, do you even know what you have on hand?
How This Whole Topic Started (in my brain)
I watch a lot of YouTube videos on cardmaking. And a lot of those awesome crafters have WAY more supplies than I do.
And I kept thinking, "how on earth are they keeping track of all those stamps, dies, etc.?"
I have a lot of wooden stamps and they are all on display on custom shelves in my craft studio. But what about all those new clear sets I have hanging in page protectors (where my fabric used to hang….RIP sewing).
Searching on Pinterest only showed me notebooks full of "photocopies" (like, hello…no thank you! I need less work and easier access when I'm not a home).
But I'm happy to report that I found a great source for info on using Airtable to inventory my supplies. And while it's a good amount on initial time investment to get things logged in, I am so excited to share why I think this whole thing is awesome!
First, How It Works
I thought about making a "how to" video for you but why do that when someone else already has?? I'm a firm believer in non-wheel-reinvention. (Check out Understand Blue's tutorial over on YouTube for detailed advice and instructions on setting up your inventory.)
Setting up an Airtable account is easy, and there's a free tier if you're not sure you'll like it–no investment other than time.
You basically have a highly dynamic spreadsheet at your fingertips to log product names, companies, themes, keywords, categories, sentiments, etc., for your convenience. Not to mention having a list of what you own in case you need to file on your home owner's insurance.
What's the point of all this? Yes, it's nice to say it's all organized, but here's my main issue….
I have ADHD, which means I also have a lack object permanence. If I don't see it, it ceases to exist.
Can you see how this would be a problem when thinking up card concepts and ideas? Or when you're buying paper crafting products but can't remember if you own it already?
As I started methodically entering all this info I realized how many stamps, dies, stencils, embossing folders, etc., I totally forgot I owned! This is crazy to me! (Like the cute Sunny Studio Happy Camper stamp I totally forgot I owned.)
I'm so glad I put the time in to do this because now, if I want to make…say…a sympathy card, I can come onto my Airtable and search "sympathy" and see which stamps I have.
This is going to save me a lot of time in the long run. I HATE searching through all my stamps physically, and I often miss small stamps and sentiments even when I DO look through them physically!
A Few Tips/Comments
Here are a few tips, recommendations, comments that I have regarding using Airtable to inventory your stamps:
Remember that you can make a tab for different categories of products. Right now I have tabs for Stamps, Dies, Stencils, and Embossing Folders.
While I did have to take a few snapshots myself of a few stamp sets, I was able to Google most of the product images, save them, and add them to my spreadsheet.
Type out every keyword you can think of. I made sure to have a word that represented what each object is and then what holidays or occasions seemed related.
As the YouTube tutorial advised, I added a "Retired" column in the spreadsheet, just so I know in the future for blog posts.
I divided up the work in chunks so it wasn't so overwhelming. I did maybe 20 entries at a time.
BONUS Idea
I'm still working on this one because I have saved soooooo many card ideas over the years on Pinterest, YouTube, and Instagram. But I'm also doing an inventory of card ideas.
How does this work?
Well, I just made another "base" in Airtable (basically the general category…so I have one for product inventory and one for ideas). And I'm slowly chipping away logging them for future use.
What's the benefit here? Can't I just go browse through all those social platforms individually?
Yes, yes I can. But I don't want to. I want a central hub. If I want to make an interactive card, I want to only be able to see the interactive card ideas. Endlessly scrolling is a waste of my time and energy.
So, now I can keep track of these ideas in one place. (next on my list is a Wish List inventory!)
I'm almost as excited about this as I am about the product inventory!
---
So there you go. Not a tutorial because, somebody done been there and done that. But I'm here to tell you that this is an awesome tool with awesome results. It's worth your time to get it going, especially if you struggle with object permanence like I do.
Oh, and did I mention, there's an app too?
So get organized using Airtable to inventory your stamps! I think you'll be glad you did.
Y'all take care!