This week's Monday challenge from Simon Says Stamp is to make entries using your favorite technique.
Well, hi!
Okay, this one was quite a, um, challenge. Not necessarily making the cards. Just trying to pick a favorite technique! I really had to think about this one.
What is my favorite technique?
In all fairness, I believe that this is something that will change with time and with new stamps, products, etc. So FOR NOW my favorite technique is ink blending. Especially for creating skies.
So here are my entries into the challenge, from least to most favorite. My most favorite really surprised me and reinforced a lesson I have learned this fall. More on that at the end.
Nutcrackers
Yes, I do love making skies but I figured if I made five entries with five skies that could get redundant. So I thought I would just use my favorite blending brushes to create a monochromatic background for my nutcrackers.
So first, I had to stamp the nutcrackers and mask them. Then I used a red, a cherry, and a dark green stamp pad to create the red background. Yes, green. Adding green just around the edges, and adding it gently, really deepened the shading.
After that, I added some metallic accents to the nutcrackers with a gold gel pen. I chose muted pastels to color each one in. An embossed Merry Christmas sentiment finishes the card, as well as embossed edges.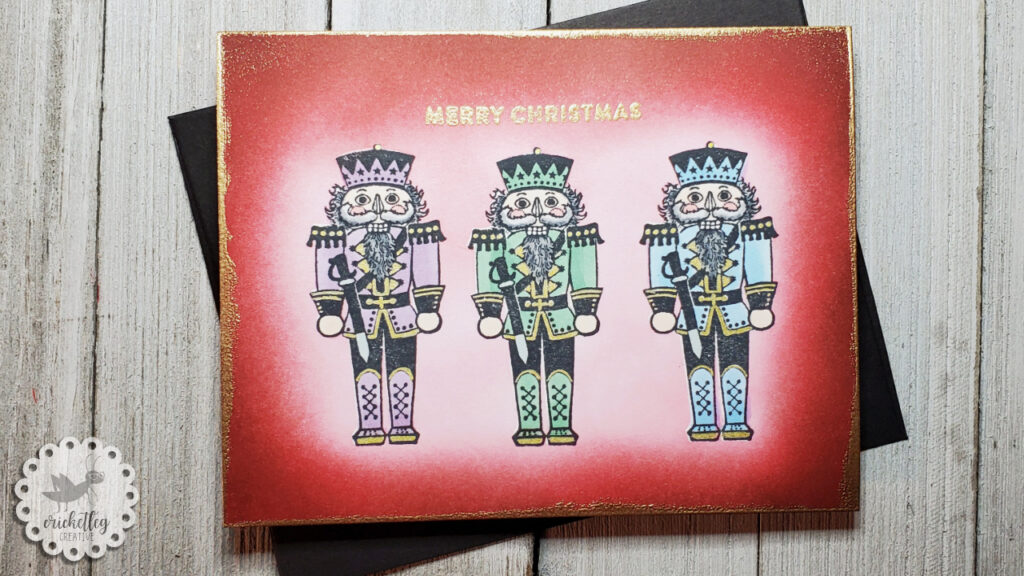 Snowy Trees Sunrise
Sunrise or sunset? It could be either!
Recently I purchased a set of winter tree stamps from Inkadinkadoo so I used a few of them on this card. I did mask some of the snowy evergreens before doing the ink blending with the brushes.
When I make skies I try to reference a real photo, so the Google comes in handy for that. Helps me figure out how to order the colors.
I wanted this to look like a snowy morning and since the light is behind the trees, I used gray blue Copic markers to put most of the snow clumps in shadow.
A sentiment from the most recent Simon Says Stamp card kit (which just came today!) finishes the card.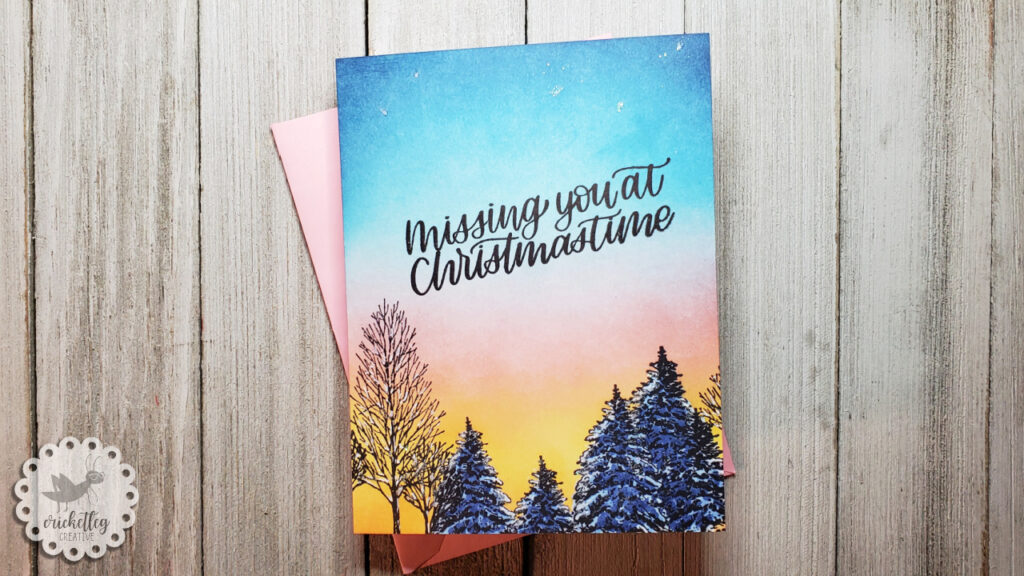 Tropical Sunset
Next year is my 30th wedding anniversary! Husband and I are planning a trip (crossing fingers for no Covid complications) to the U.S. Virgin Islands. And right now, I'm loving any reminder of that upcoming trip!
In a recent challenge, I used this same palm tree stamp for my scene. I just love the look of palm trees in silhouette. But this time I added some clouds using stamps and dies from a Hero Arts set. I used the cloud dies to create masked areas that I could ink blend over. Then, once the ink blending was done, I used the cloud shadow stamps to create dimension. Adding in some Copic marker shading helps the clouds look like they are reflecting some of the sunset colors.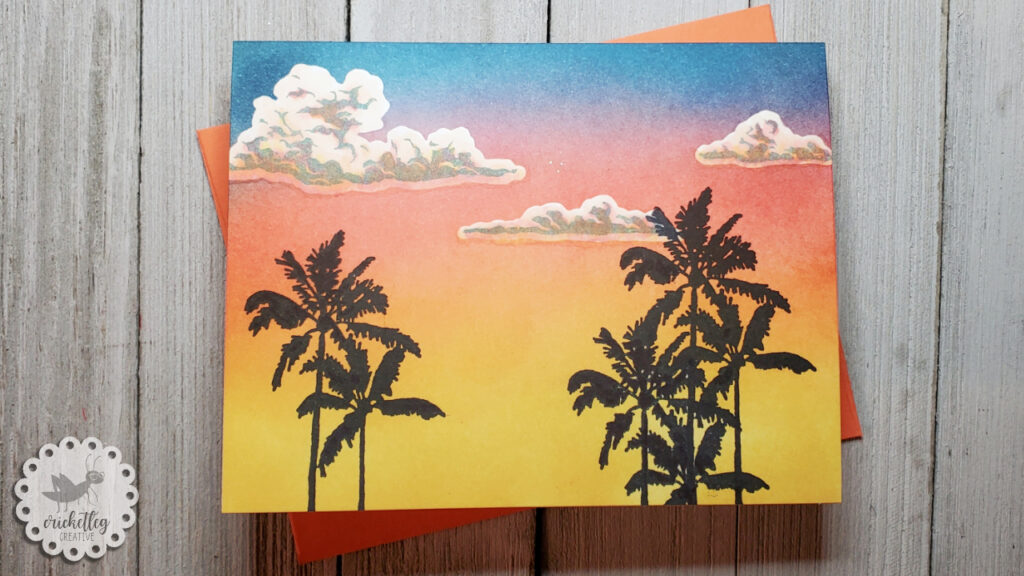 Forest Sunrise
Or sunset. Again, who knows?
To create this slimline card I used stamps from the set that came with my alcohol inks kit. I was excited to use these as I'm always on the lookout for tree stamps!
Unfortunately, the quality of these stamps appears to be less than great. When inked up, the tree line (which I love!) does not stamp well and leaves a big "ink hole" where it would not stamp no matter how hard I pressed! The "And So The Adventure Begins" sentiment stamp is crooked. I had to yank them off the plastic and they don't stick well to acrylic blocks.
So, I had to fill in the ink hole with a Sharpie. That worked since I stamped in black for a silhouette effect. But what if I wanted to stamp in green? Sigh. Oh well.
Once I filled in all the holes (I stamped it three times across the bottom of the slimline card) I did my ink blending. Okay, that's a lie, I did do a sun shape first. I die cut a small circle from a Post-It note and used that as a stencil to color in the sun with Copic markers. Then I ink blended from the sun outward.
Luckily, the other sentiment stamp in the set stamped fairly well. Still, disappointed in this stamp set.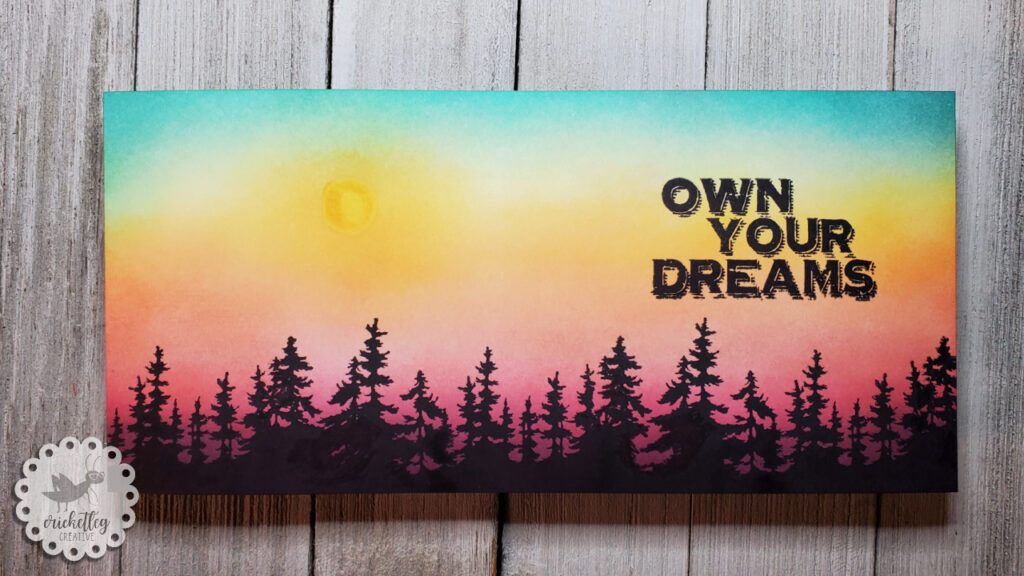 Snowy Greenery
This one almost did not make the cut. Seriously. It almost went in the trash.
Here's the 411…
I started by stamping the beautiful greenery stamp in this month's Simon Says Stamp card kit. Such a great kit this month! I colored it in with Copics and then decided that for this background I would do some Copic blending! (FYI…I don't know what that pom-pom like plant is in the stamp but this Southern girl thinks it looks like cotton….so it's cotton. I mean, why not?)
Silly me, most of my markers are Ohuhu which are great for the price, but many are already too dry for blending (I haven't had them very long!). I knew I wanted a kind of teal blend and once I started I just had to keep going even though a couple of my teal family markers were dying.
Hmmm. The blend was sucking pretty bad. So I thought I'd try a new product that I *thought* was for after inking. Um, no. It's for before. So after I sprayed and it dried (and did nothing but add shiny blobs all over) I just about quit.
But, as I have learned in the last few months, you can often make lemonade out of lemons when it comes to card "fails" so I soldiered on. I tried ink blending white pigment ink over the blogs. Nope. That looked weird.
Well, I can always add snow splatter and see what happens.
And that did it. I watered down some white goache and splattered it liberally over the entire card surface. Sure enough, it covered my many sins and I think it looks great!
A computer printed sentiment mounted onto red cardstock finishes the card.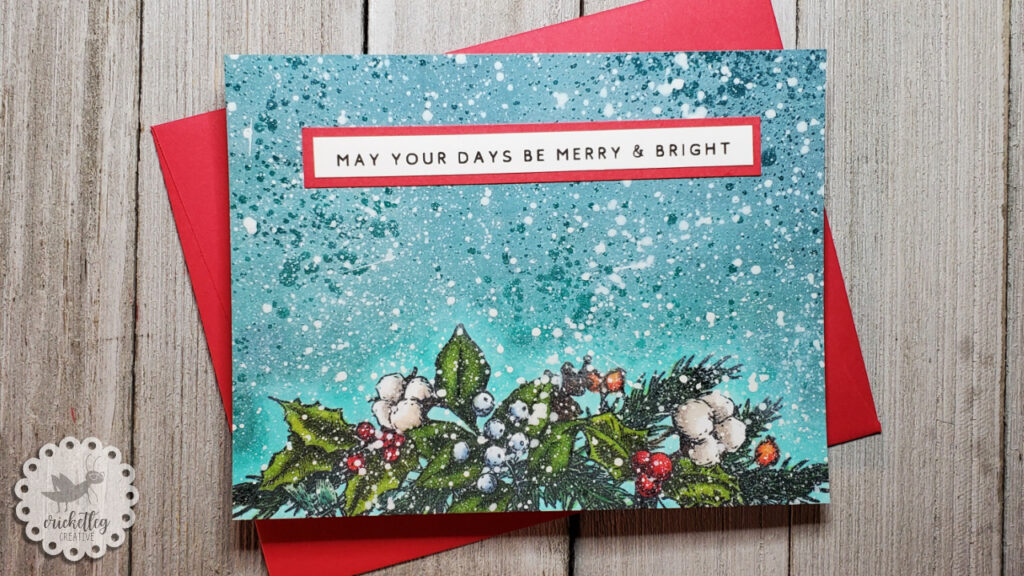 And that's a wrap!
Just a heads up, Mr. Snowy Greenery Card will be doing double duty by appearing in the Simon Says Stamp Wednesday Challenge theme, Let It Snow. He's so beautiful how can I not use him twice?!
Y'all take care!