I was surprised and delighted with how quickly this Z-fold Spinner Card came together with Digi (digital) paper!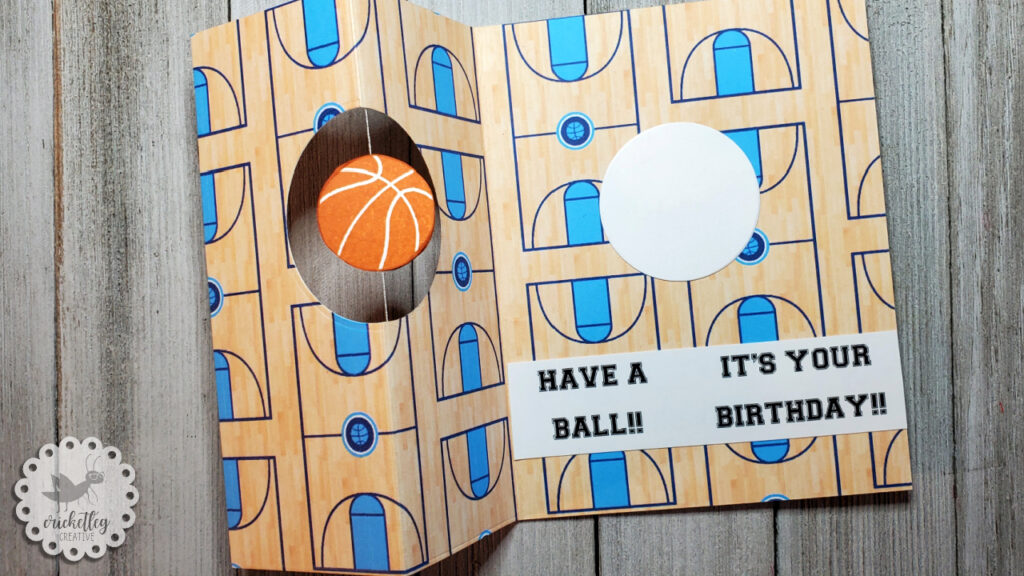 Well, hi!
Cards for the men in my life have been a bit of a challenge. I know exactly what I want a card to look like, but when I have mostly stamp images that are NOT their style…well…it's a challenge!
For my dad's 87th birthday, I wanted to do a sports card. He loves basketball and baseball. Number of sports sets I own: ONE. Number of coordinating stencils/background stamps/papers for sports: ZERO.
I could see exactly what I wanted for my card, but I didn't have the supplies to complete it. Do you ever have that experience? I remembered that I did have some wood grain digital papers….hey maybe I could mimic the floor of a basketball court.
Nope. They were all distressed wood.
So I head over to Etsy and order this set of basketball themed paper. This particular color set was just about perfect for a Tarheels card! So I unzipped it, placed it in Word, and printed it out on both sides of my cardstock in my printer.
Using digi paper really helped this card come together FAST. I also printed out the sentiment strip from Word, as I wanted a Varsity type font style and wanted to customize it to say "Have a Ball" since my spinner is a ball.
I love how this turned out and I think I will definitely be using digital papers in the future to pull together quick cards! I've already been able to experiment a bit with digital stamps, but this is faster!
So check out my Z-Fold Spinner Card with Digi Paper video below to see how it came together. And comment below if you've ever made a spinner card. You can check out other interactive cards of mine here and here.
There it is folks…another video post in the books. See you in the next blog post!
Y'all take care!