This Santa card with his Buffalo check background was really fun to make and fun to video!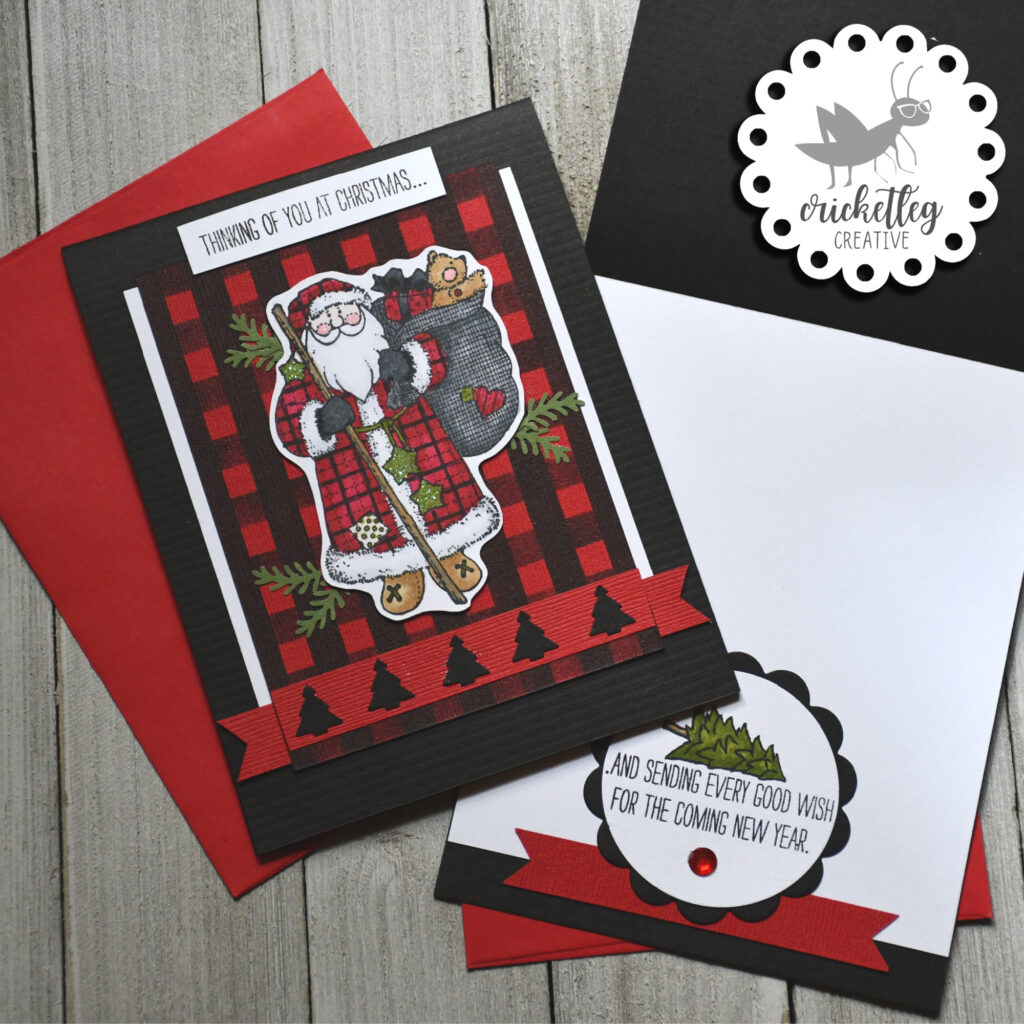 Forgive the vertical orientation for this time lapse video. Having never ever shot one, I really wasn't sure which way to orient it. I'm fairly techie, but I'm not super current on the best ways to set things up for social sharing. And at the time, I had no intention of sharing to YouTube.
Also, still figuring out the whole overhead camera rig thing. Needs to be more close-up for sure!
Anyhoo…
Much as I would love to have all the bells and whistles that many of my modern card-making mentors have, I am left with what I have on hand. And that's somewhat dated.
I've had this Santa from STAMPIN' UP! for ages and really just wanted to make a cute and cozy card. I used a vertical lines stencil from Printworks (out of business now, I believe) to create a gingham or buffalo check for the background. The greenery and black trees are made from paper punches, and not the good kind that are easy to punch. No, these are the ones that you get a workout using!
The sentiments and tree are also from SU! but are definitely more timely. I think the black and red cardstock really set things off.
Coloring with "Copics"
I colored the Santa and tree with my Ohuhu markers, and they're….um…okay. For now. Eventually, I want to have Copic markers which are the gold standard for alcohol-based markers. My Ohuhu's are not as wet (from what I can tell from other videos) and so the blending is more challenging. Still, I have really enjoyed using them and would recommend them to beginners who need a more budget-friendly alternative.
Since making this card, I've had a chance to binge-watch (and I do mean binge!) a true master in the Copic craft: Sandy Allnock. I highly recommend checking out her Copic videos. She also has watercolor, colored pencil, and other videos. I'm just so inspired by how she can take just a couple of stamped images and create a world around them with markers! Amazing!
Anyway, watching her videos has inspired me to be a little more daring in how I color. So I'm much more proud of some of my later cards. Still, this one still gives me all the cozy feels, so I still love it!
Here's the time lapse of the card creation:
Thanks for watching! Now go create something!