My examples for the Simon Says Stamp Matching Card & Envelope Challenge

Well, hi!
Simon Says Stamp runs two weekly challenges. One is on Monday. The other on Wednesday. I'm going to try to make examples for those and post them here on the blog. You can link up to five entries for each challenge, and I think that's a great way to get creative and have some fun! Plus, winning a $25 gift card is a pretty sweet incentive.
Last Wednesday's challenge was to make cards with matching envelopes! Since I needed to add some inventory to my Etsy shop anyway, I figured this fit my needs pretty well!
My recent post on the We Go Together Wheel Card qualifies for the challenge as well. You can go read about it here. Shoot, I guess that makes six cards! Someone is gonna get left out! Oh well.
All these cards, minus the We Go Together card and the Bunny Love card, are currently in my Etsy shop!
Bunny Love
The first card to show you is a simple one that uses some…well…some cheap stamps I found on Amazon (see note below). The bunnies are a cute little grouping and I love doing simple shading above and below just to give a hint of a scene. A coordinating bunny stamped on the envelope flap completes the challenge! The inside sentiment says, "Somebunny loves you."
(Side note: I don't recommend the off-brand photopolymer stamps and dies on Amazon because they are not great quality. It was an experiment purchasing a few sets…an experiment I won't repeat. I can use these stamps, but they have ZERO stick, so they won't stick on their own to a block or stamp tool. The dies are not super accurate either.)
Typewriter Hi
The second card to share with you is this simple but very clean Typewriter "Hi" card. I worried when coloring this image that it would be boring, but I have to say that I love the open white space around the typewriter. And the way the black cardstock behind it sets it off against the patterned letter paper. The stamps are from Stampin' Up!…all from the same set.
It makes a nice, clean lines card.
Floral Quote
Next I'll share this more inspirational card. One of my sisters recently requested that I stock my Etsy shop with some cards she could send people at church. So I thought I'd take a spin in that direction.
To make this encouragement quote card, I used a very intricate die from Tim Holtz. It was a bit time-consuming to punch out all the negative space, and a challenge to glue down. But I really like the effect of the white on blue cardstock. I die cut some leaves and used sponge daubers to add some shading with a dark green ink pad. The quote is just printed onto cardstock from my computer.
I used the green cardstock that I die cut the leaves from as a stencil for making the coordinating envelope back. I used the sponge dauber and that same dark green ink pad to lightly swirl over the stencil.
I'm looking forward to making more of these, incorporating quotes from spiritual leaders as well as scriptures.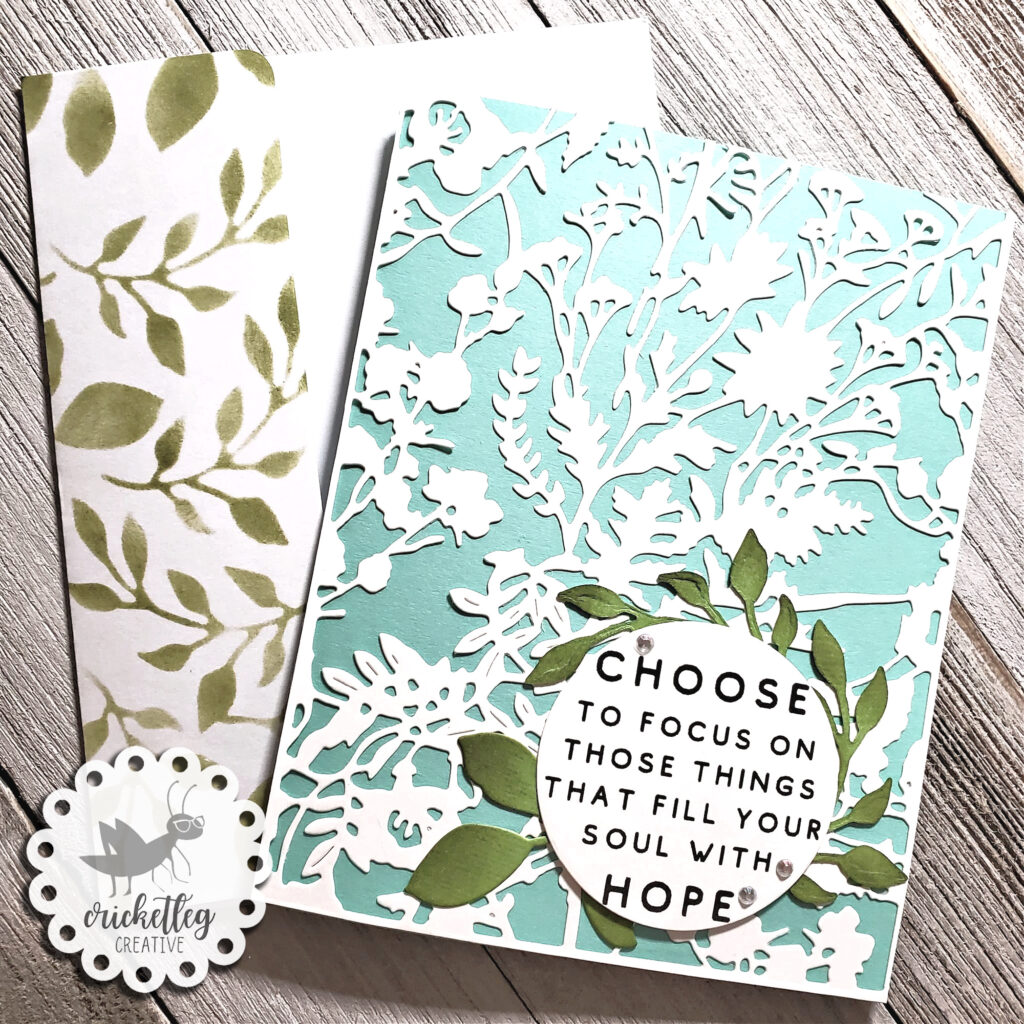 Santa and Reindeer
I saved my favorite two for last. I love the bright sky behind this Santa and reindeer card. I've really been enjoying using my alcohol markers to work with blending color. While I'm still learning, I find that each time I work with the markers, I'm willing to be a little more daring and use more and more contrast. I just signed up to take the Copic Jumpstart class from Sandy Allnock's Art Classes site, and can't wait to level up my skills with all her amazing classes!
The stamps for this card are from Stampin' Up!.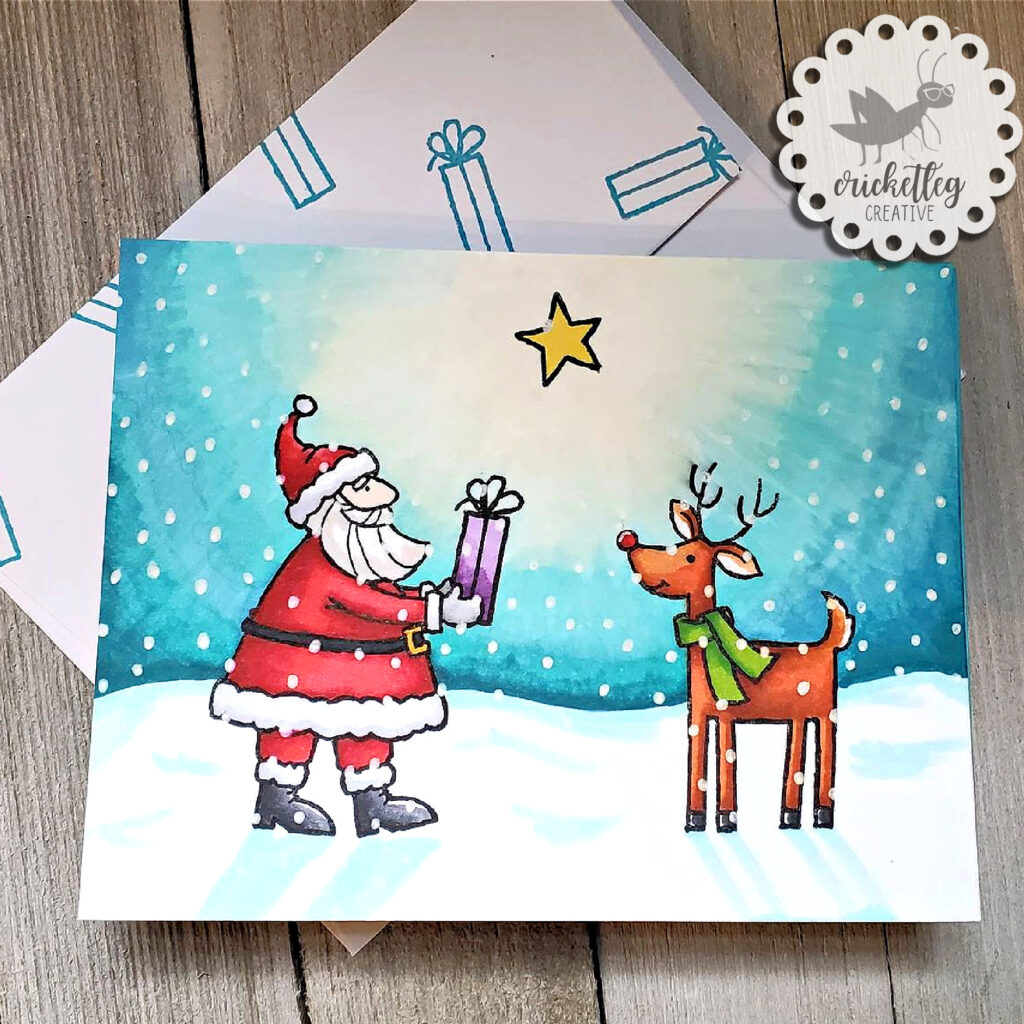 Polar Night
Night scenes seem to have become a favorite for me with my markers. This night time polar bear scene was fun to create. When I look at it, I totally get the cold, snowy mood going! Simple masking for the bear helped created some depth in the scene. And using a white gel pen for snow in the air and on the trees really makes the whole thing pop!
The Matching Card and Envelope Challenge was fun to do and helped me get some inventory into my shop!
Thanks for stopping by! I hope you got some card inspiration. I'd love to hear your comments on your own favorite ways to coordinate your envelopes with your cards! Or maybe you can do your own Matching Card & Envelope Challenge.
Y'all take care!