Some Lighthouse Rejects prototype card fronts have their day in the spotlight!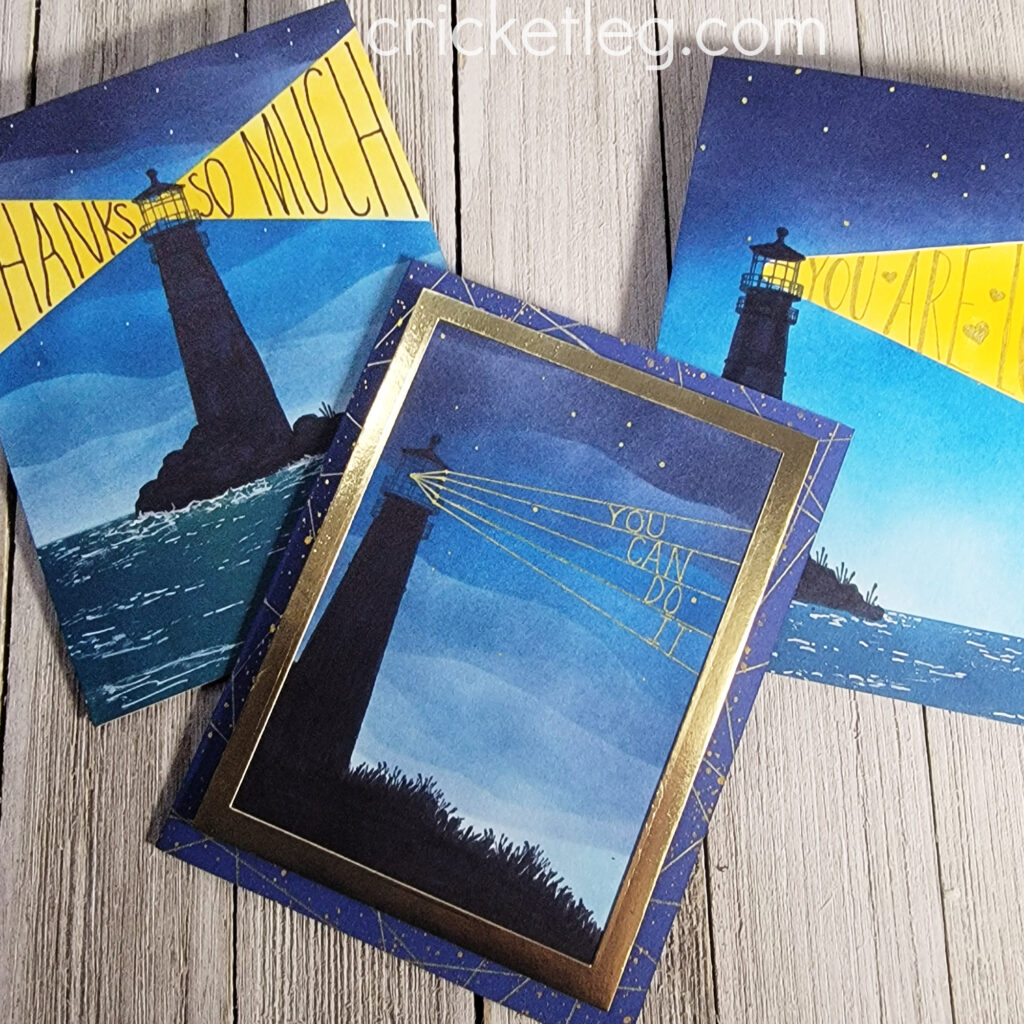 Well, hi!
I was recently commissioned to do a custom order of cards for the amazing life coach, Denita Bremer. We conferred on the design and I offered a few options. She chose her favorite and the rejected prototypes got set aside. You can see the finished cards here.
Well, I figured it was time these lighthouse rejects got their own special card uses!
Thanks So Much
Each card features a lighthouse silhouette so the variations have to come with the placement of the lighthouse, the sky variants, and the position of the light. For this card, the lighthouse is an island and is in the center. The light comes out from both sides of the lighthouse.
Normally I like to print off a sentiment from my computer. But as the printer is on the fritz, I have to get creative! How about some words in each lighthouse beam?
When I have time, I like to do something to the envelope to hint at what'll be inside. So I used the lighthouse stamp, without coloring it in for a silhouette, on the outside front.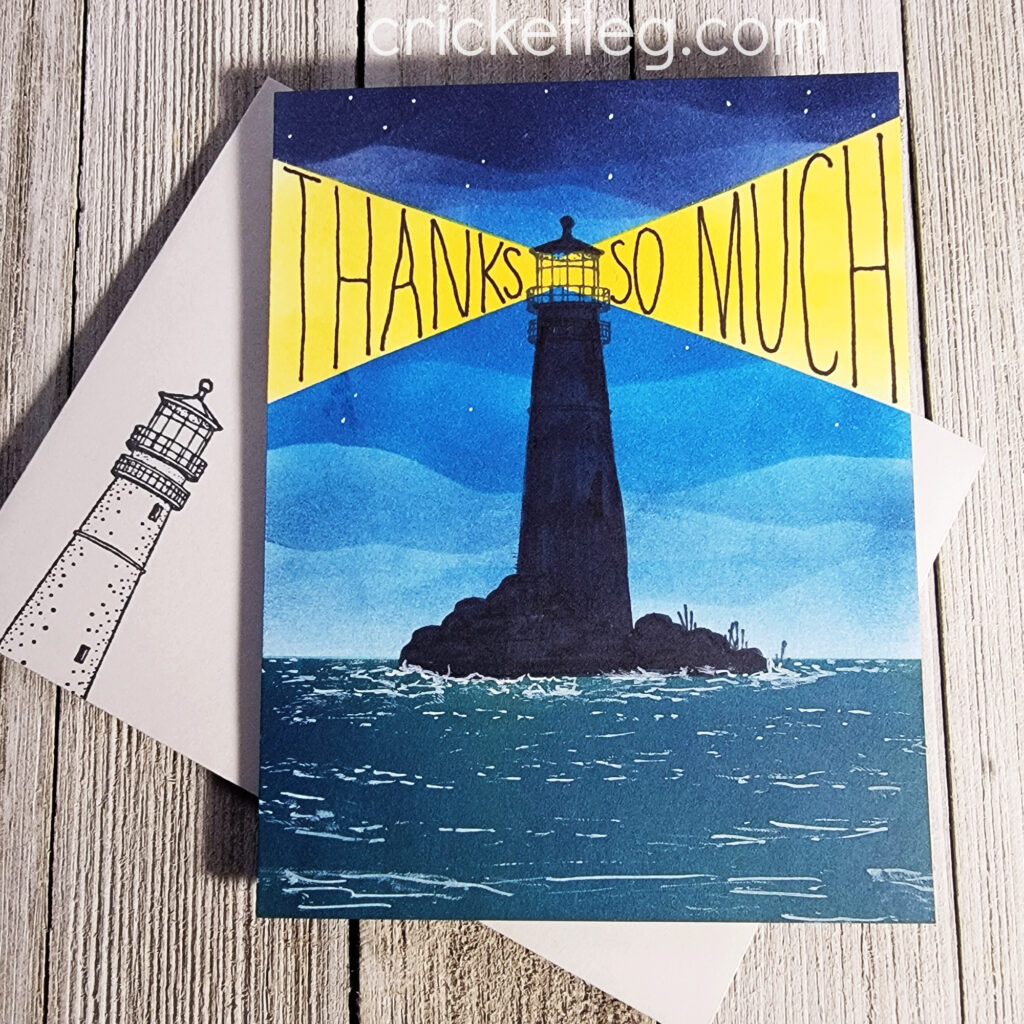 You Are Loved
Okay, now this one is the actual approved prototype. BUT, when I first made it I got a smudge on the beam of light and tried carefully to remove it with a sand eraser. I was able to remove the mark, but I also removed some paper with it. Not good enough to make into a card for my paying client. So it went into my pile of rejects as well.
Words in the beam for this one too, but I decided to use a gold metallic pen for a more subtle message. I covered up the sand eraser boo-boo by drawing a small heart over it. Adding a few more hearts randomly helped to make that cover-up heart look more at home.
Added some gold star dots and some gold hearts on the envelope. It's ready for sending now!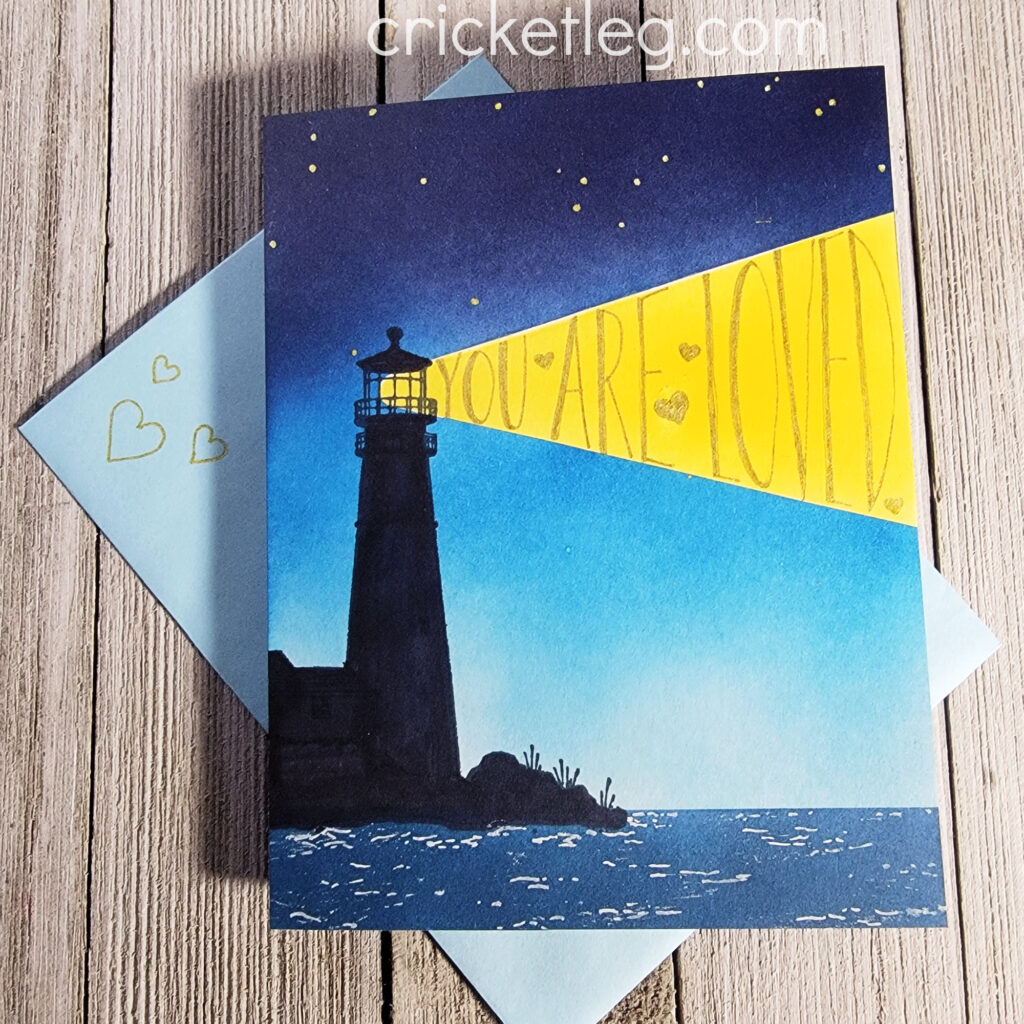 You Can Do It
This one is my favorite of all the Lighthouse Rejects! It never got an ink blended yellow light beam because while making this prototype I simply forgot to mask the area. But without a light beam, it was just so dark and dreary!
So, my gold metallic pen came to the rescue (I love my pen, I also used it on this Thanks card). I drew some lines out from the lighthouse and then added the words "You Can Do It," one to each space. I wanted this card to be just a little more special so I trimmed down the image and framed it with gold metallic paper (using rectangle dies).
To add some drama to the card, I used gold metallic watercolor to add splatters and then added random, angled straight lines. I mounted the framed lighthouse scene with dimensional tape.
The envelope is decorated in a similar manner as the card base.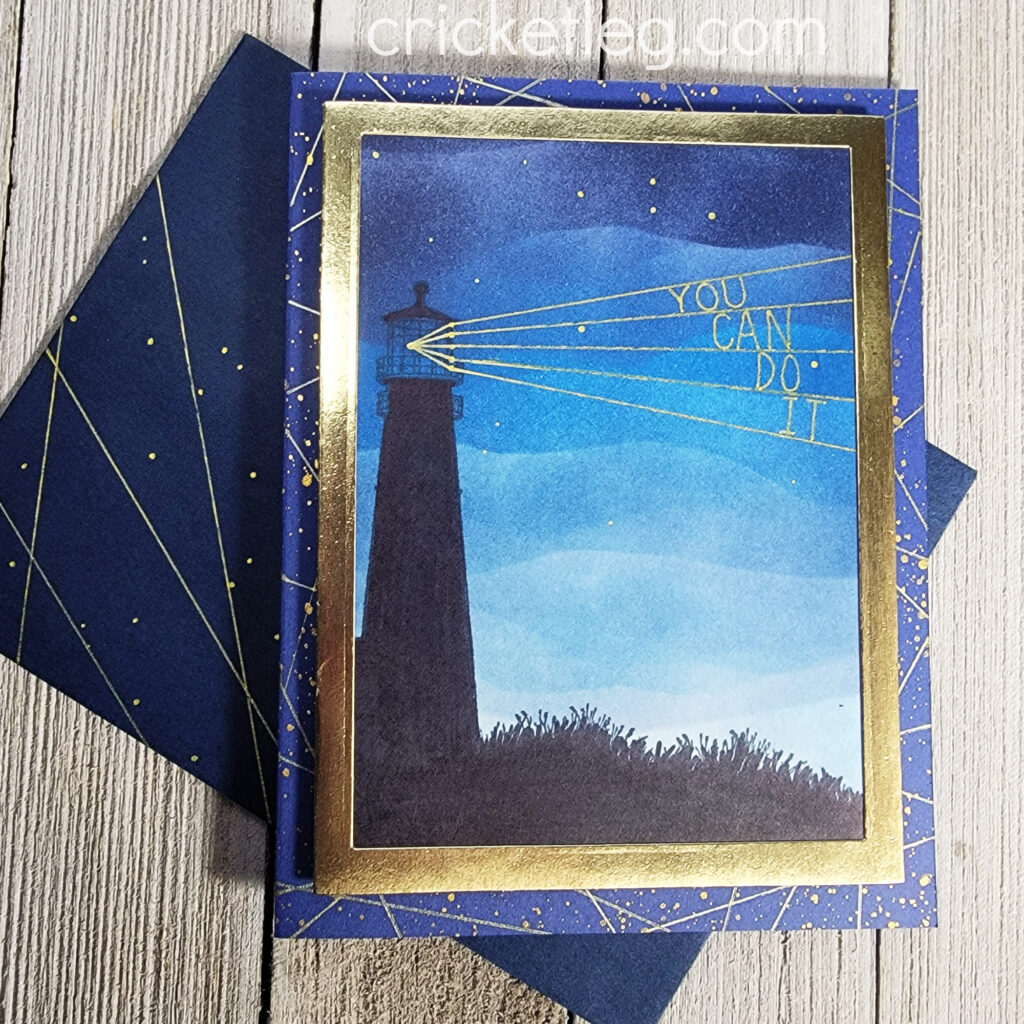 I gotta say, I love having a little box for card fronts that don't quite make the cut in the moment. Seems like you can always recycle them for something else later. Never give up on a card!
Y'all take care!