Hey, this "Fun with Dies" Challenge is the part 2 from the "Alcohol Inks" Challenge, basically. Two birds, one stone.
We last left our heroine (me) with lightheadedness and some kind of ugly first tries at alcohol inks. But now you get….the rest of the story!
If you read that last post, you'll know that I decided to die cut my rather unsightly first alcohol ink attempts hoping that this would make them usable.
And it did!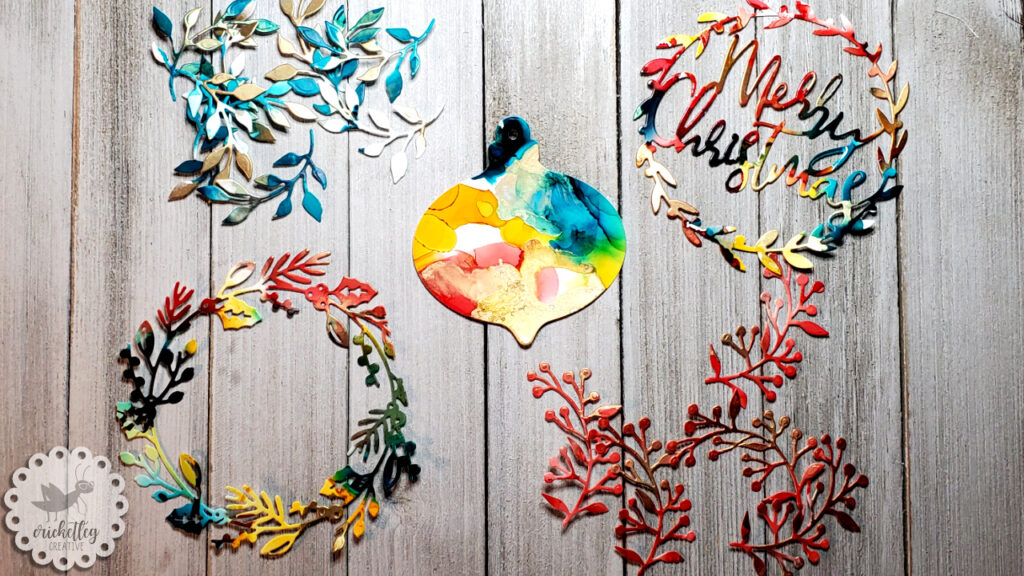 I much prefer the look of the one color plus gold mixative, but the others aren't too bad. Artsy fartsy and all that. So after die cutting them, I chose background papers and built then cards based on the mood and colors in the die cuts.
Here are my double-duty entries into both the "Alcohol Inks" Challenge and the "Fun with Dies" Challenge. And since 'tis the season, I made them all Christmas themed.
Merry & Bright Wreath
This is my least favorite of the five. I love the die itself, but it's larger than a standard A2 size so I don't use it very often. I allowed it to be trimmed short on one side and just positioned it flush with the card top fold as if I had always intended it to be that way.
Hey, work with what you got!
The colors on this one ran together so much that it made for a rather busy color combo so I kept the background papers simple and solid. I did, however, use trim the red cardstock with some scraps from the experiment. I also used those scraps to back the sentiment.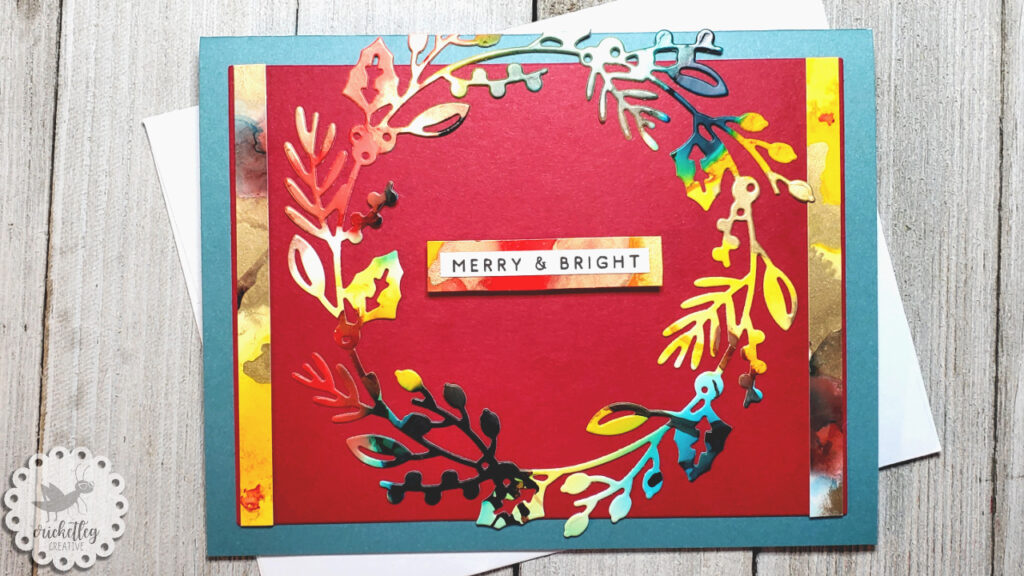 The Ornament
Using a die from a recent Hero Arts kit, I made one of the alcohol inked cards into an ornament shape. This was pretty busy too, but looked kind of high end and glam so I paired it with a gold and white patterned paper and a simple gold trimmed sentiment.
Merry Christmas Wreath
This wreath die cut, unlike its cousin in the first example, actually does fit the A2 card size! Huzzah! I thought this one looked nice on some cardstock from a recent Simon Says Stamp kit that I then trimmed with gold metallic tape.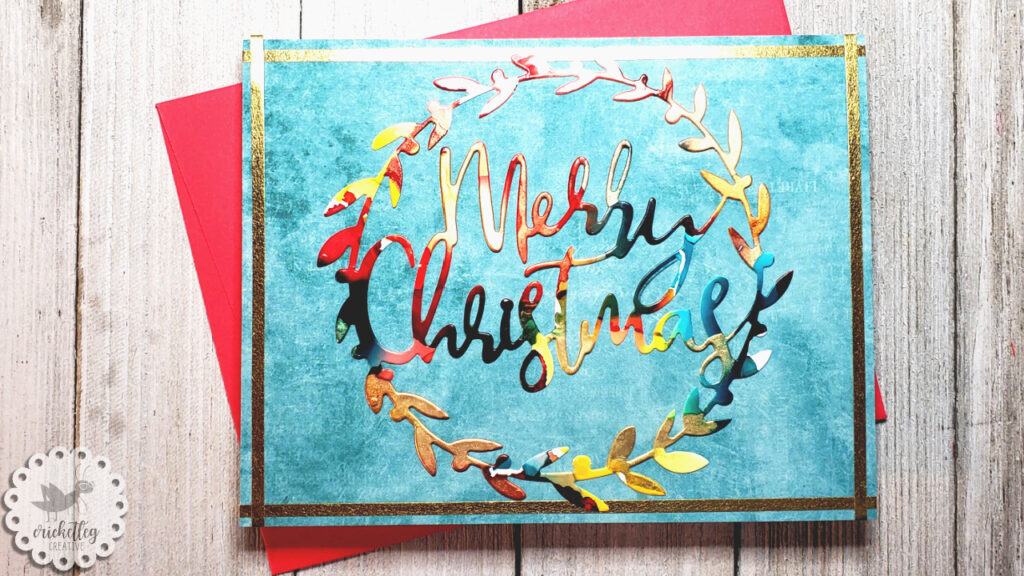 Joy
This card turned out just lovely. I used one simple leaf die to cut the cardstock at random places that had a lot of color variation in the teal ink. I arranged them into a wreath shape onto gold metallic cardstock.
Using an alphabet die set, I cut out the letters for the word "joy" from the leftover scraps. The overall effect is so much prettier and more elegant in person. Hard to photograph the metallic papers for me.
Peace
My favorite one. It's not what I would normally design. But the overall look of this card….yeah, I just really love it.
I paired this orange-red and metallic gold alcohol ink experiment with some patterned paper from a Simon Says Stamp card kit. Die cuts were used to create the branches and the word "peace." And I used some gold scrap from the Joy card to trim the edge by the word "peace."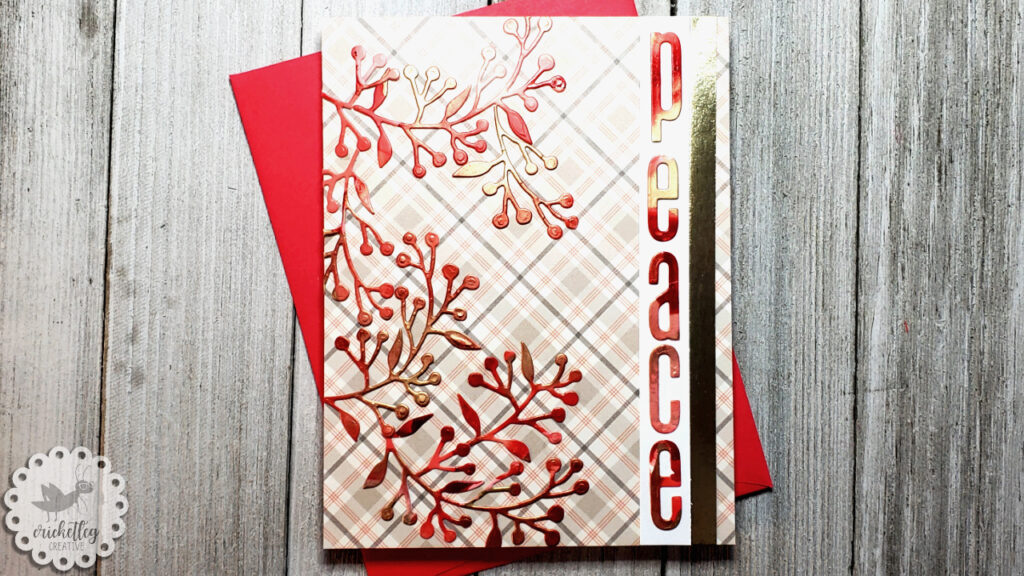 And that's it, y'all. I flirted with death (why am I so dramatic about the fumes?), lived to stamp another day, and now have five entries into both the "Alcohol Inks" and "Fun with Dies" challenges.
Now, I'm off to write my memoirs about my near-death experience. Pretty sure I'll be on a TED talk soon, so be on the lookout for that.
Y'all take care!