My examples for the Simon Says Stamp Not a Card Challenge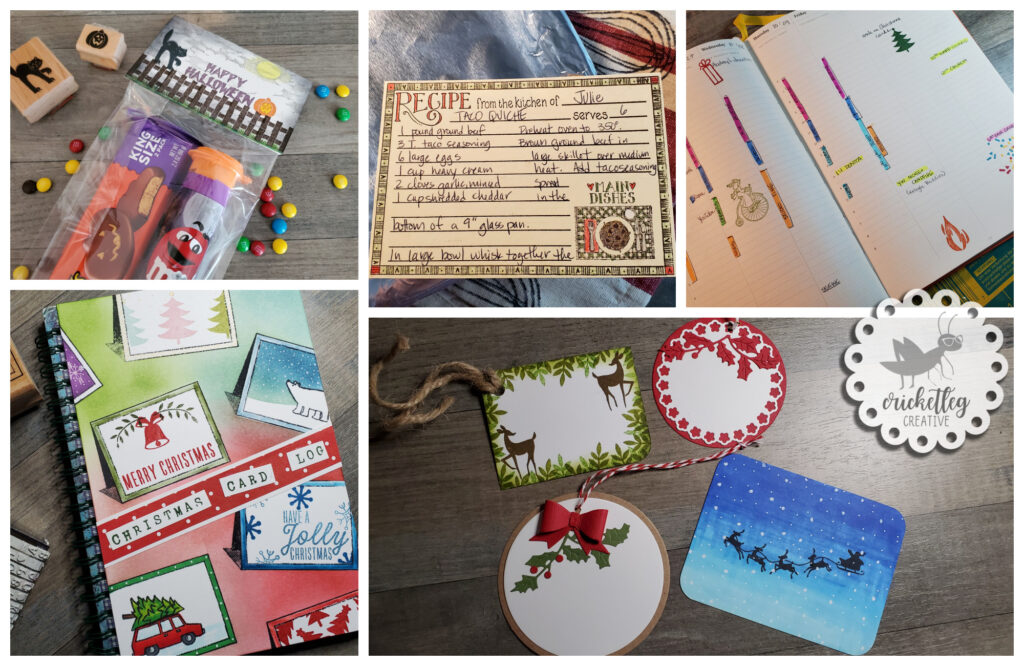 This week's Simon Says Stamp Monday Challenge is "Not a Card."
I have to admit that I was not excited about this one because I'm super focused right now on making lots of CARDS for my Etsy shop! So "wasting" time on something not card-related seemed like a bother.
But I actually had a lot of fun working on these projects.
Candy Bag Topper
Having recently cleaned out my candy, cookie, and cake stuff I knew I had some treat bags waiting to be used. Halloween candy seemed the perfect match for these, and timely.
I grabbed a notecard just a little wider than the bag and folded it in half. I stamped the front of the card with an old stamp set from Stampin' Up! And I mean from back in the 90s!! It's always been a fun set to use.
I filled the bag, placed the card over top, and stapled it in place. Easy!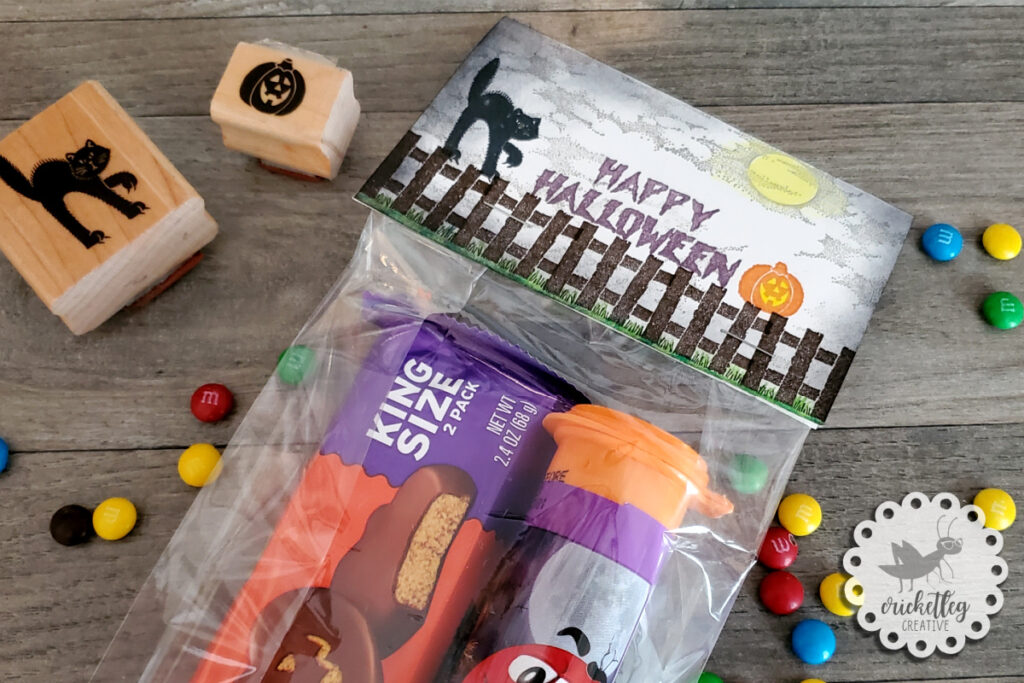 Recipes
Okay, technically this is a card…but it's not a greeting card so I say it counts!
Another oldie but goodie from back in my Stampin' Up! demo days, this recipe card stamp is pretty cute and came with all the basic recipe category stamps too.
I stamped the main card stamp onto cream cardstock. Then I used the Main Dish stamp in the bottom right corner. I just did some simple colored pencil work….it's too detailed to do much more.
This is a great idea for when you need to take a meal to someone. Why not share the recipe, if it's one of your best? And doing it with stamps is more fun!
Planner Embellishment
I love, love, love my planner. Took me years to find one that works for me.
I thought it might be fun to embellish it a little. Not necessarily to make it pretty because I have come to be a firm believer in kind of a messy planner. Or should I say well-filled?
I just wanted to add a little visual to my upcoming week.
So for a youth campfire I added a flame stamp. For my daughter's bone marrow donation day I added a gift stamp (what a gift she is giving! so proud of her!). For family game night, I added a confetti stamp in multiple colors. And for my day to work on Christmas cards, I stamped a little tree.
I actually think I may do this on a regular basis. Because I block my time off with highlighters and have some repetitive items, sometimes I forget which week I'm on. Having a visual reminder–"oh yeah, this is the week with the campfire night"–will be helpful for my brain!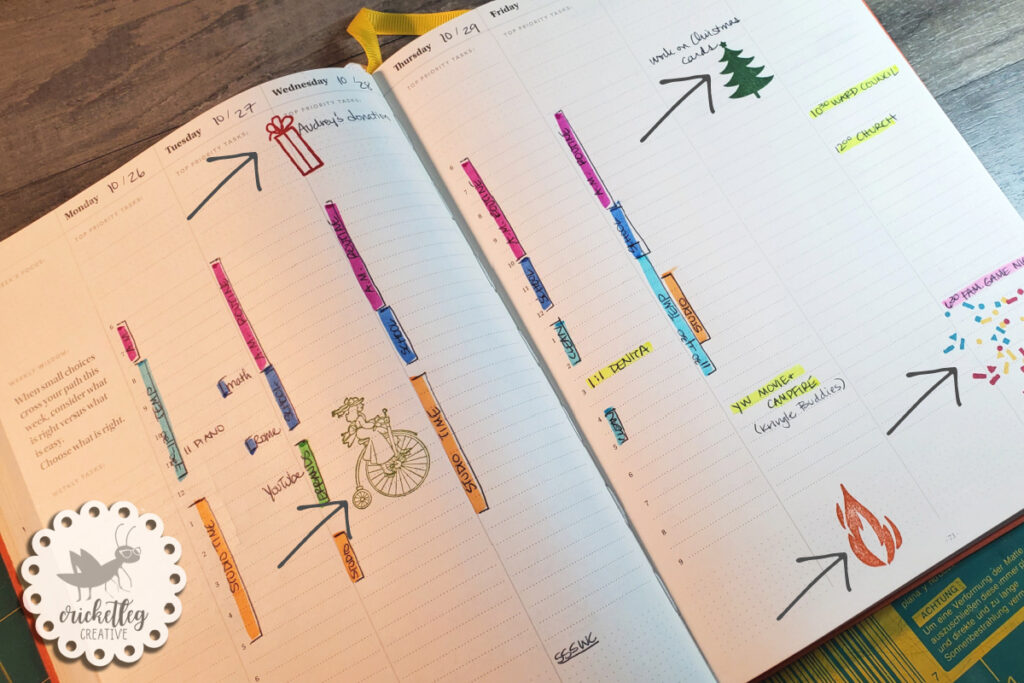 Gift Tags
Can I make a confession here? I don't do gift tags.
Why? Well we have this fun tradition I started a few years ago where I don't label the gifts to the kids. I pick a different paper to represent each person each year and my kids have to figure out who is who! It's really fun. One year I even decoy wrapped everything–I wrapped it once in the correct paper for that person, and then again in a "decoy" wrap to confuse them.
Yes, I am looney.
But really, they were getting too good at guessing based on what people had on their lists. I add extra padding, coins, etc., to throw them off base.
Anyway, I digress.
Even though these tags will not be used for the family gifts, I will have fun using these for gifts to friends. Die cuts used for some, stamps for others.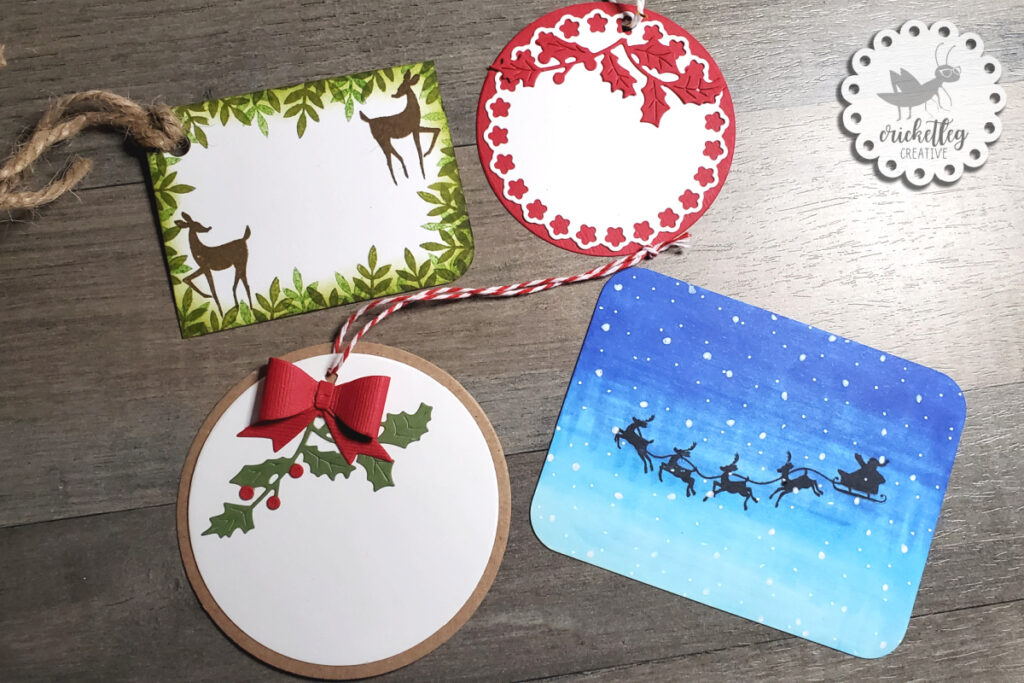 Christmas Card Log Book
And now to my favorite result of this challenge!
I've had this Christmas Card Log book for YEARS!!! I think I got it free. I know I've always hated the cover. Just not my style at all.
It happened to be sitting out on my stamp desk, and I thought, "Hmmm…can I make it cute?"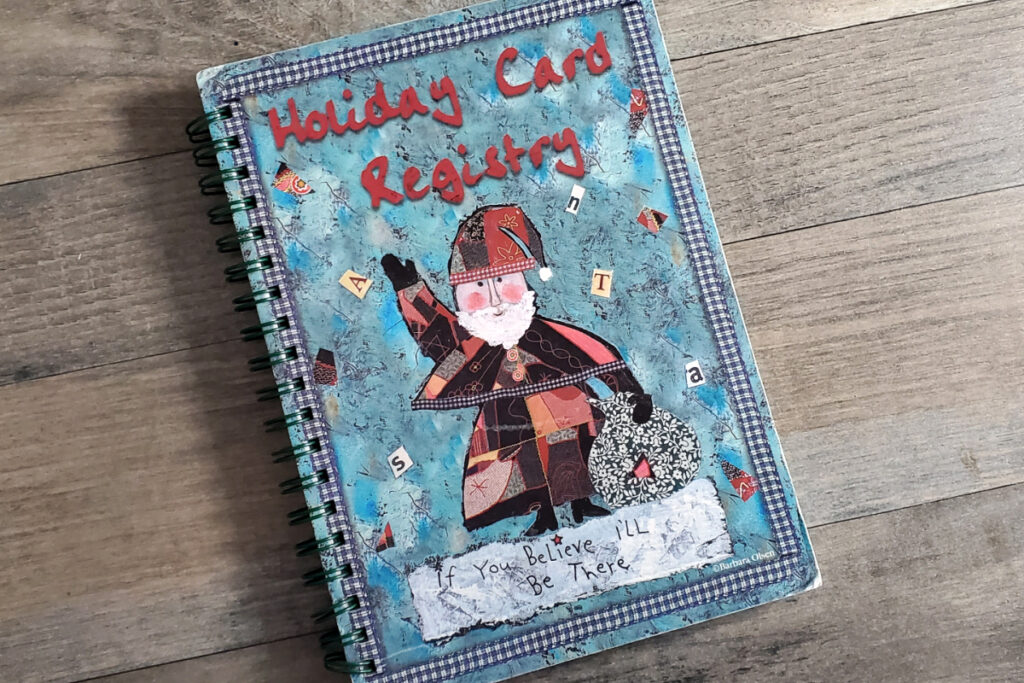 Answer: Yes. Yes, I can.
Many of the stamps I own I have had since the early 90s. I remember thinking when I saw the stamp of a blank card, "Oh, that'll be fun to use!"
Yeah. I never used it.
But now I have! I really enjoyed just making this up as I went along. I made lots of little Christmas cards to adorn this new log book. Then I masked them off with Post-Its and did some ink blending around them. That really made them pop!
Now I'm excited to mark off who I've sent cards to and who have sent cards!
So there you have it. All five of my entries into this week's challenge. And I have to say, these ideas were fun and pretty fast! While I enjoy making a beautiful card to send, it can take a while. It was fun to make some things that were quick!
Check out the last Simon Says Stamp challenge I did.