Use fine glitter and double stick tape to create interesting backgrounds for your handmade cards! Glitter tape card backgrounds are an easy way to add pizzazz to your cards.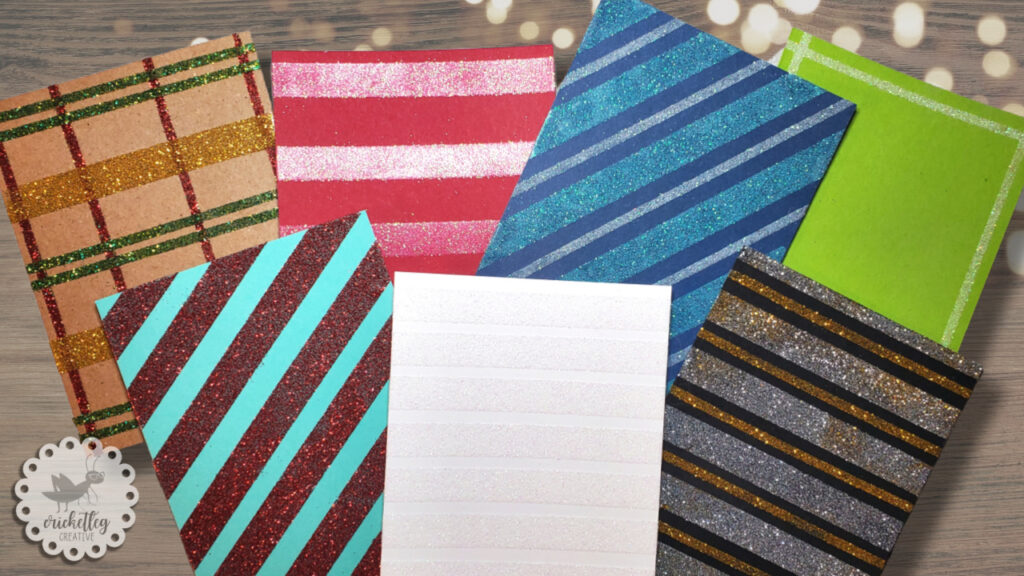 If you're like me, you may not currently have tons of background papers, background dies, or background stamps at your disposal. And, if you're like me, you may get a little sad when you feel like you can't create the backgrounds you want.
Well, I have a solution for you. Well, you know….for now. And it's kind of fun!
The Glitter
Recently, on my weekly Walmart grocery shop, I ran across some super fine glitter on the back aisle of the craft section. I grabbed a couple of colors and brought them home to experiment. I mean, I paid for them first. And then I brought them home.
They really are beautiful, and are just under $3 a jar. They're stackable, as you can see in the video. But I have them in a single layer in a drawer.
Anyway, I'm not sure how I cooked up the idea (and I'm not saying I'm the only one who's thought of this) but I thought that double stick tape combined with this superfine glitter would make a great background option. And it's inexpensive!
The possibilities are endless. Go for tone on tone, with a glitter that matches closely to your paper color. Do stripes–horizontal, vertical, diagonal. Make a plaid design–all one color or multicolored.
Basically, you can just go nuts.
The Tape
In this video I'm only using two tapes. One is from Lawn Fawn….1/8″ double stick tape. I love this tape and use it all the time. The other is just office supply double stick tape on the disposable roll.
The only reason I chose those two is because that's what I had! Use what you have and have fun with the results.
You could also incorporate metallic tapes like the blue tape I used on this card. I bought that tape from Hobby Lobby and it's made my The Paper Studio. But I really wanted to exclusively use double stick for this video.
Watch the video below to see how I, on the fly, made a few backgrounds with very little effort.
So there you have it! Glitter tape backgrounds are a fun, easy, and inexpensive card option for birthdays, Christmas, New Year's, and so on and so forth and what have you!
Hey drop a comment below and tell me how you successfully tame glitter in your card projects. I'm off to clean up the glitter spills on my desk!
Y'all take care!