Two entries into the Simon Says Stamp Favorite Technique Challenge…but how can I pick favorites?!
Well, hi!
I tell ya, every time a "favorite technique" challenge pops up I find it hard to choose! I love lots of different techniques. But then I remember…oh yeah, I love ink blending backgrounds. Especially skies.
And since I have a few new additions in my stamp collection, I thought it a good time to combine them with ink blending.
So, here you go…
Mahalo Floral Card
The latest card kit from Hero Arts is phenomenol! Lots of images and dies to play with. It's been so cold and wet here lately in eastern North Carolina and having fun with some tropical whimsy is just what I need right now!
I wasn't really sure where I was going with this when I started, but I like where I ended up! I stamped the flowers and leaves using masking, and colored them in with Copic markers. Then, I used Copic markers to make the water background.
In hindsight it would have been much easier to stamp, color, and die cut all those images out. But I do like that there's no white border around them. So it's fine; just hard to do the background around all that detail.
I used Glossy Accents from Ranger to make wavy lines over the blue ink background and let it dry. I stamped some other leaves from the Hero Arts set and placed those around the sentiment that I stamped. All those images are from that Hero set.
You Warm My Heart Card
The stamps that made this very sweet campfire card are from an Avery Elle stamp set. I'm a bit lacking in the cute critter stamp category, so I recently purchased this set. I love campfires so this one was a no brainer.
I stamped the images I wanted to use first, then colored them with Copic markers, being careful to add some yellow glow to the sides facing the fire. (That racoon gave me some trouble, but that's in their nature I suppose.)
Once those were ready, I placed them on a notecard just to see where I might want my horizon line. I set them aside and masked off that horizon. For this card I used stamp pads and blending brushes for a softer, more subtle blend. I started in the center where I knew the campfire would be, with yellow. Then a light brown around that, and a darker brown on the outer edge. Same basic idea for the sky.
With a few trees stamped at the sides, I was ready to glue my critters in place. After that it was just a matter of adding starts and sentiment.
I have to say, I think my favorite element on this card is the splatterware mug! I couldn't help myself there!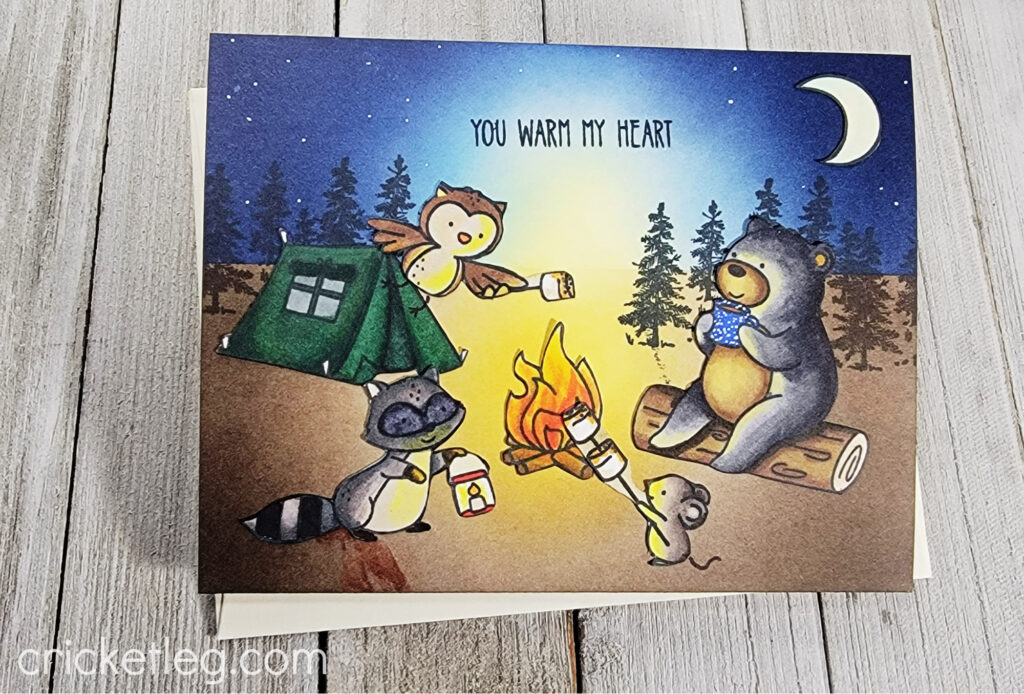 Both cards have a blended background. One uses Copic blending and the other uses stamp pads with blending brushes. Both are fun!
View my other challenge cards here.
So there you go! Y'all take care!