Simon Says Stamp "Anything Goes" Challenge with a few cards and a journaling entry.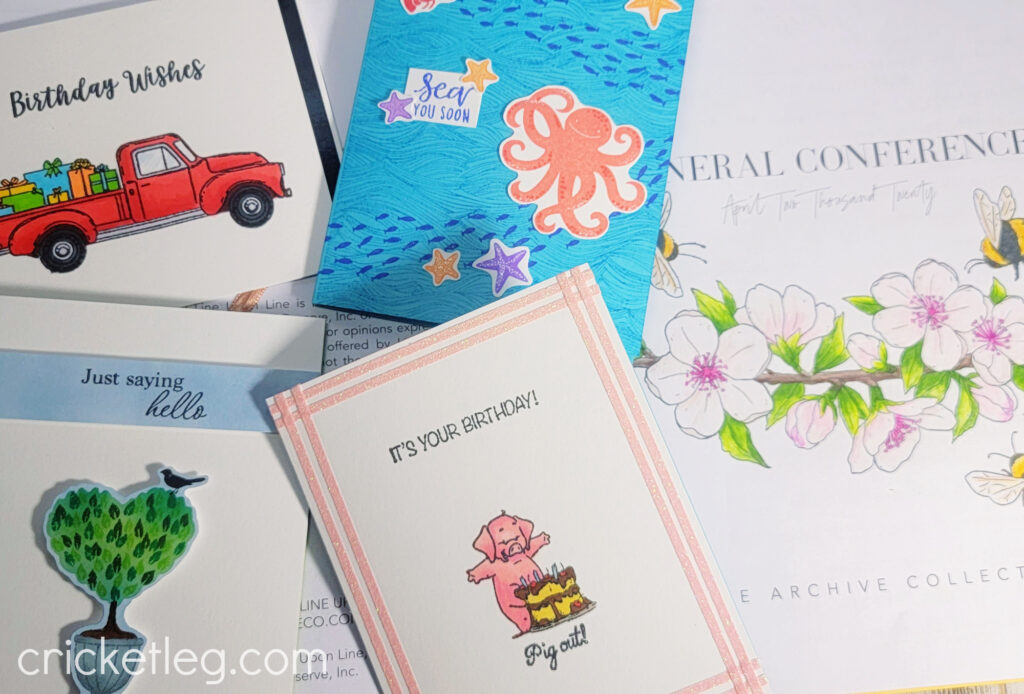 Well, hi!
Sometimes it's nice to have a specified direction, but sometimes I do love when I can just do whatever I want!
So this latest challenge from Simon Says Stamp being "Anything Goes" is just want I was in the mood for!
Welcome to my five entries. Here they are in no particular order.
Bees & Floral Journal
This is the front page to my Line Upon Line General Conference notebook. I've been showing some drawings I've been doing on my Instagram (on Sundays). But this time I thought I'd mix things up by doing some stamping and coloring.
I chose to use stamps from the Hero Arts January 2021 kit. Can't believe I haven't used it yet before now! It's such a great stamp and die set. I stamped the large floral and the three different bees. Then I colored it in with colored pencils.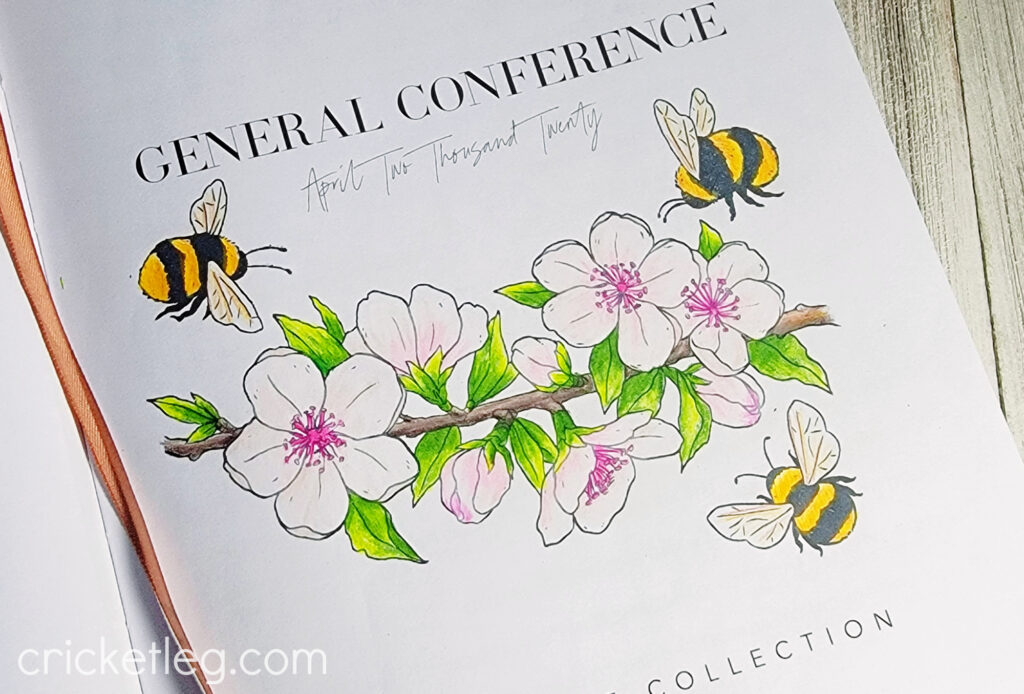 Pig Out!
Okay, here's a chance to address something. Months ago, in an effort to increase my stamp and die supplies with as little money as possible, I made an Amazon experiment.
I ordered some really cheap clear mount stamps with matching dies. Do they work? Um, mostly. Would I do it again? No.
The quality of the stamps is poor. They do not stamp with very clean lines, but sometimes you can hide this. The dies are not as sharp or exact either. These "cling" stamps do not actually cling very well. Once you manage to pry them off their plastic backing page, there's no stick left. Not great.
So the lesson is: spend the money and buy from reputable stamp companies. If the price sounds too good to be true, it very likely is.
Still, for a simple card, and since I have the stamps already and might as well use them, this card is pretty cute. Not great lines, but still fun to use.
Stamped using Tuxedo Black Memento Ink and colored in with Copic markers.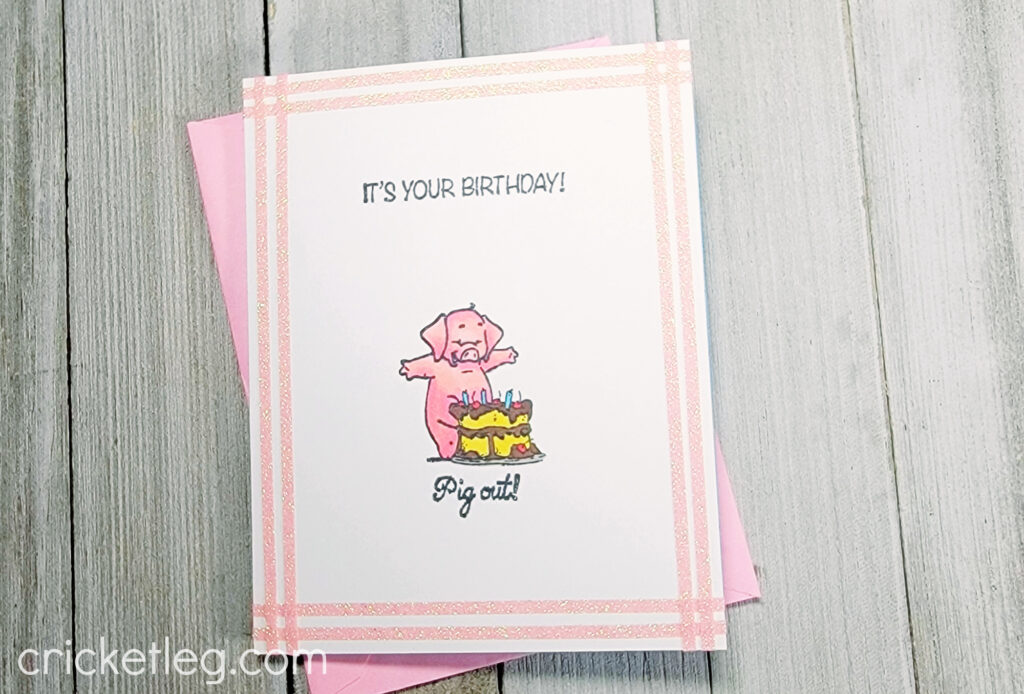 Gift Truck
Speaking of cheap stamps….yeah, here's another example. I do love me a vintage pickup loaded with stuff in the back! But this set has the same issues as the pig. Blurry lines, dies are meh, and no cling.
But, again, still can be used. So I did. This set comes with gifts, pumpkins, hearts, presents, flowers, apples, leaves, etc.
The sentiment is from an Avery Elle birthday set. You can see the difference in quality between the crispness of the sentiment and the blurriness of the truck. I'll not be trying the cheap Amazon stamp set experiment again! I mean, when I take on an Anything Goes Challenge, I don't want the challenge to come from actually getting the stamps to work right!
Stamped using Tuxedo Black Memento Ink and colored in with Copic markers.
Topiary Hello
Let's get back to great stamps, shall we?! I love Hero Arts, and this was a surprise freebie in one of my recent orders. I think this simple and sweet topiary makes a lovely card, don't you?
It came with matching dies. I used the die for the greenery section to make a mask so I could ink blend the leaf area for a softer and more complete look.
The sentiment is also from that set.
Stamped using Ranger Distress Ink pads and colored in partially with Copic markers and ink blending.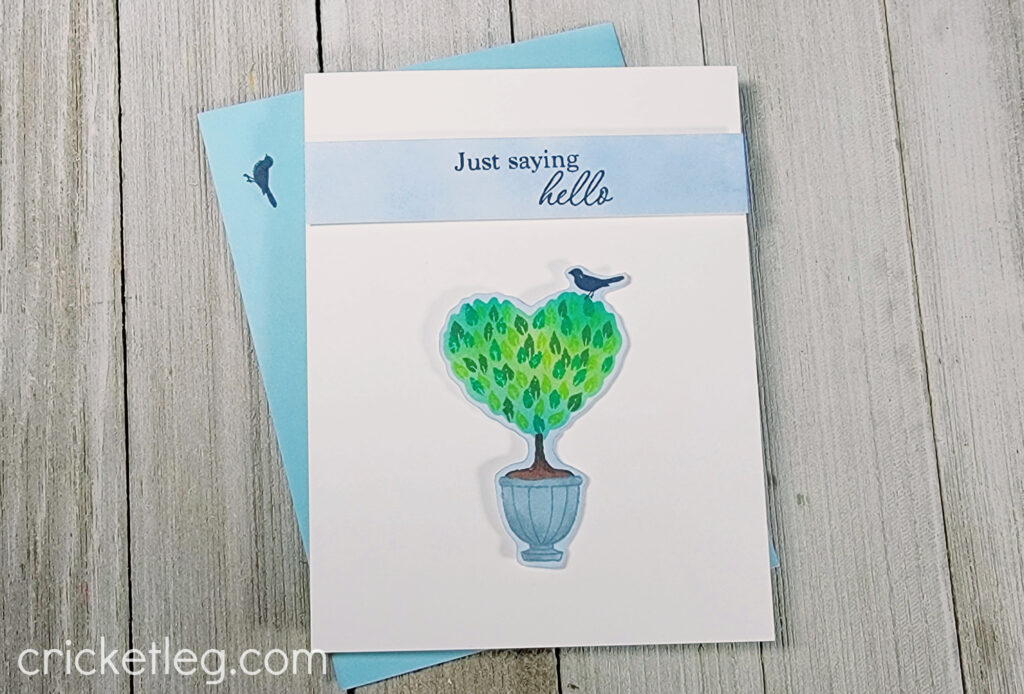 Sea You Soon
Another Hero Arts win here. That watery background stamp is from Hero Arts and I've been itching to use it. I love it!
I paired it with an old Stampin' Up! stamp set that features a school of fish, octopus, starfish, and lobster. The "Sea You Soon" sentiment is from another Hero Arts set.
I just love mixing and matching stamp sets! I can sometimes be too "in the box" and forget to do that.
Stamped with Ranger Distress Ink stamp pads.
Alright, all done. Hope you enjoyed this peak at my "Anything Goes" Challenge entries. You can check out other challenges here.
Y'all take care!