You can make really sweet and simple one-layer cards with very few stamps.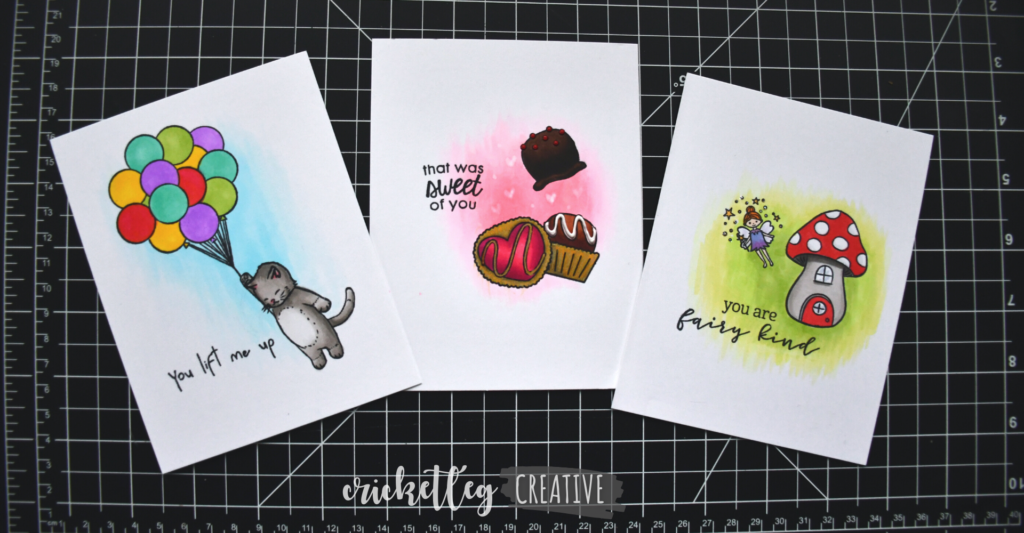 I love a really juicy intricate card. They usually take a while, but when you look at the final product you're super satisfied with the results.
Here's the thing though….you can actually make a beautiful, sweet card with a simple design. It can take less time and effort but it's just as nice to look at when you're done.
And, to be honest, sometimes I like a little empty white space on a card.
This type of design piqued my interest recently when I watched my mentor, Sandy Allnock, feature her Copic Coloring vignette cards on YouTube. I was convinced that this was one of the next projects I needed to try.
Why This Design Is Easy
Whether you call them "simple one-layer cards" or "vignette cards" the design idea in this case is the same: pick 2-3 smaller stamps that go together and pair them with a small sentiment.
In Sandy's video, for example, she featured a very cute sea themed card with 3 sea critter stamps paired with "you're turtley awesome." Very simple, but very cute.
One benefit to this type of design is that it is very likely that, even with a small stamp inventory, you are will have something that works.
I very quickly looked through my clear stamp sets and found ideas right away. You can see below the pairings I came up with. I stamped the designs with Memento Tuxedo Black ink (so it wouldn't run with the alcohol ink from the Copic markers).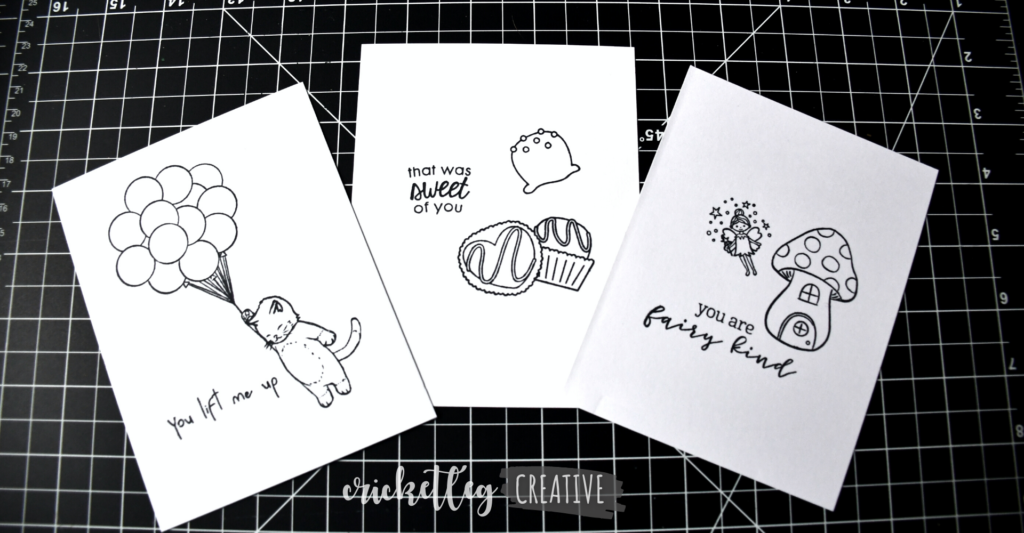 Very few supplies are needed for this type of design. As I mentioned above, if you are using Copics you need to make sure the stamp pad you are using won't bleed when you color the image in. But considering what all can go into making a card, using a stamp pad, a few stamps and something to color with is a pretty small supply list!
That Was Sweet of You
When I was planning out which stamps I wanted to use, I knew I wanted to do three. And I knew I wanted each one to have a different background color, just so I could try it out. The stamps I chose to use worked perfectly for this.
The first card I planned used some candy stamps from the Sweet Truffles set from Simon Says Stamp. I masked one of them so it would look like one was in front of the other. I paired these sweet stamps with a sentiment from the Hero Arts You're Top Tier set.
After coloring in the truffles, I used some light pinks to color a bit in and around the images, fading out with a lighter pink marker on the edges.
I finished off the design by adding some gold accents with a metallic gold gel pen. And I used Nuvo Crystal Drops in red and white to add some dimension to the truffles.
And I took a tip from Sandy and used my Copic colorless blending marker in the pink shaded area. I drew small hearts.
You Are Fairy Kind
All three stamped images came from the Hero Arts My Monthly Hero Kit from July 2021. This is such a cute set–full of gnomes and mushrooms and woodland accents. Just adorable.
Though I really, really, really wanted to do a gnome card, I just couldn't get past the sentiment "you are fairy kind." I wanted all these cards to be thank-you cards so I focused on the sentiment.
I used the mushroom house, the fairy, and the sentiment. Once they were colored in, I used light greens to do the background color…fading out again so that the green faded softly.
I added some Stickles clear glittery accents on the fairy dust. The colorless blender also added some dot texture to the background.
You Lift Me Up
For my last simple one-layer card, I chose to use stamps from another My Monthly Hero Kit. This one from June of 2021.
Another simple design, with just the balloon stamp, the cat stamp, and the sentiment. After coloring in the cat and balloons, I used light blues to fade out on the background.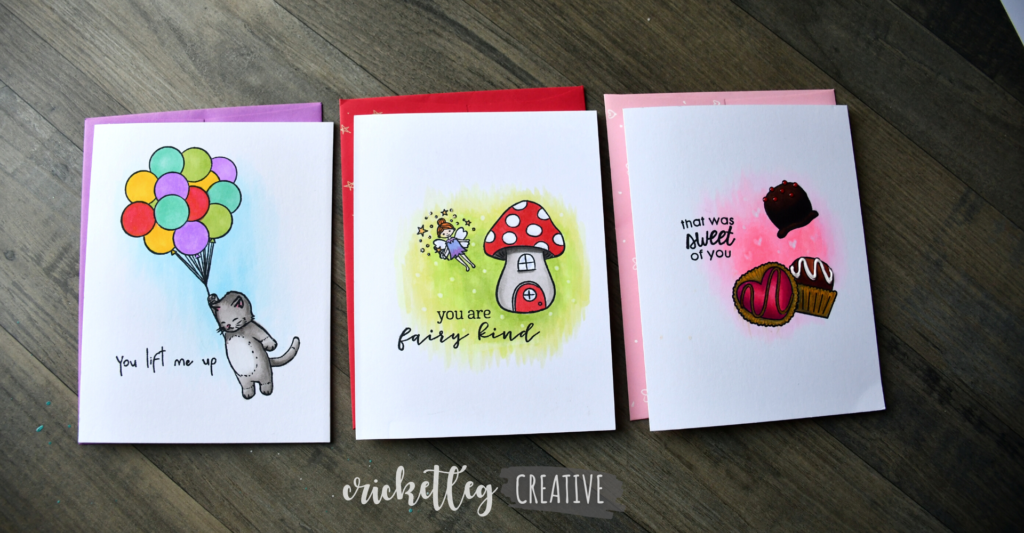 As one last reminder, I recommend using high quality, heavy cardstock for your coloring. You'll get much better results. I use 110 lb. Neenah white cardstock.
And you don't have to have Copics. I've used cheaper alcohol markers than Copics (but I upgraded last year). You could also try using colored pencils.
And that's it folks. Simple one-layer cards that can be made very quickly but are very sweet. If you have not yet tried simple designs like these, I invite you to give it a try.
Here are a few other simple card designs you might enjoy trying.