Lovely ice skates bordered by snowy greenery for a beautiful holiday card!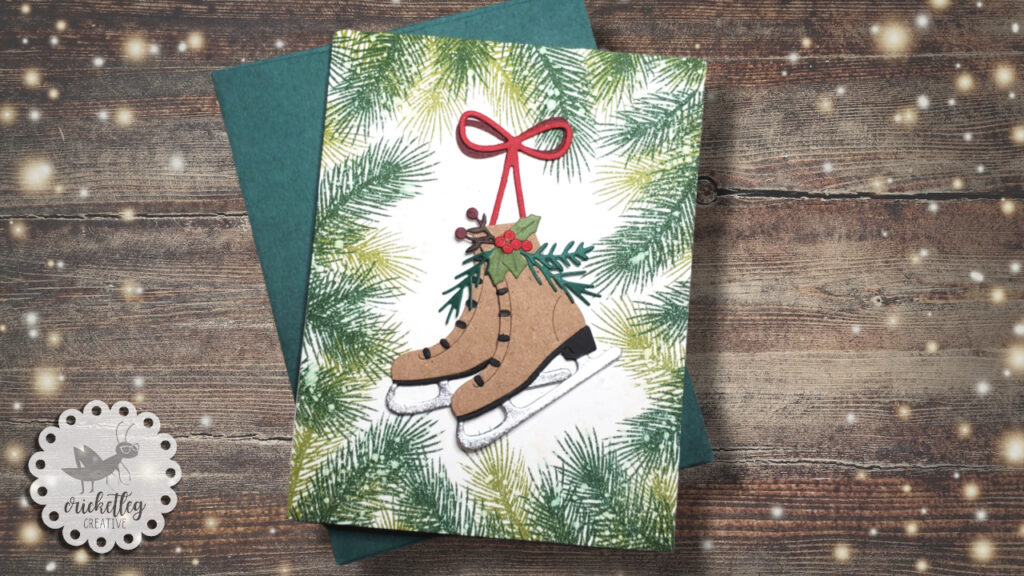 My favorite cards to make are holiday cards, specifically Halloween, Thanksgiving, and Christmas. But my all-time favorite is Christmas. I've loved Christmas since I was a small child! Creating a whole mood with a Christmas card is just so satisfying!
When I thought up the design for this card, I got so excited to make it! I'm not an ice skater, but I love ice skating. In fact, one of my very favorite Christmas movies, The Bishop's Wife, features an ice skating scene that I just adore! (I just tried to find a link to that scene, but no luck…sorry.)
Anyway, I love the look of ice skates hanging with greenery. So cozy and vintage feeling. So I was very excited to shoot a video featuring that on this card. Other than the tiny laces and berries, everything went together very quickly.
Another beautiful look for this card would be to switch the card base to kraft paper and the ice skates to white cardstock. That would be beautiful and the snowy splatter would show up even more. Hmmm….I think I have something to go do right now.
Enjoy the video, and please leave me a comment and let me know your favorite Christmas movie!
Check out some of my other Christmas cards here and here.
Y'all take care!